On July 4, the 2023 Midea Building Technologies New Product Launch took place in Budapest, Hungary. In keeping with the theme "EVER GREEN EVER FORWARD", Midea Building Technologies revealed two significant products – MCube Series Liquid Chiller for Energy Storage System and the next-generation M thermal R290 Nature Series Heat Pump, which demonstrates Midea's continuous commitment to sustainable development and innovation.

A Midea Building Technologies booth was set up at the launch event to showcase our significant technological and product achievements for green innovation. The booth was divided into the Atom T display area, the heat pump and Midea Energy Solution display area, and the IOT display area. Additionally, the booth presented Midea multi-scenario solutions – in alignment with the green theme of the product launch – including Magboost Pro Magnetic Bearing Centrifugal Chiller, the Liquid Chiller for Energy Storage System, the V8 Series VRF, and the Aqua thermal Super Series R32 High Temp Heat Pump.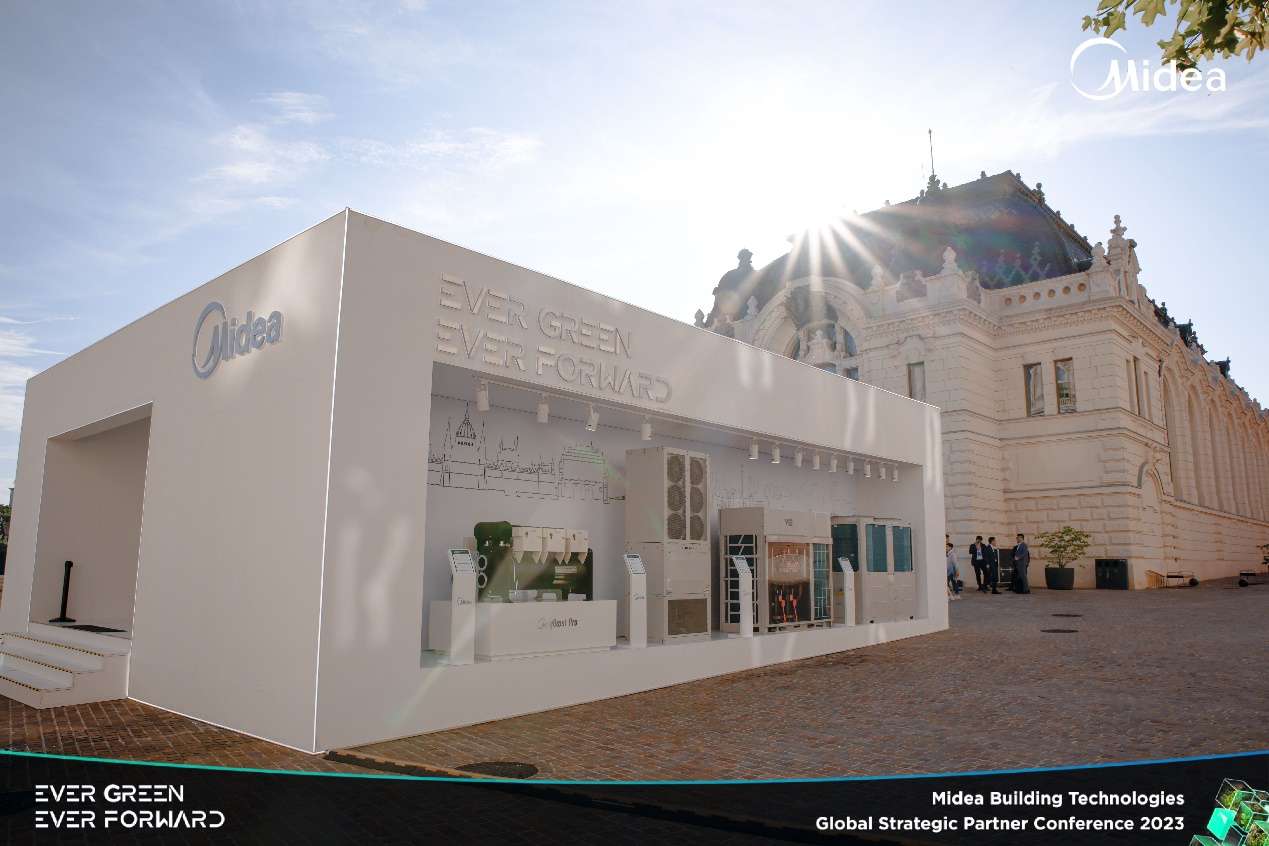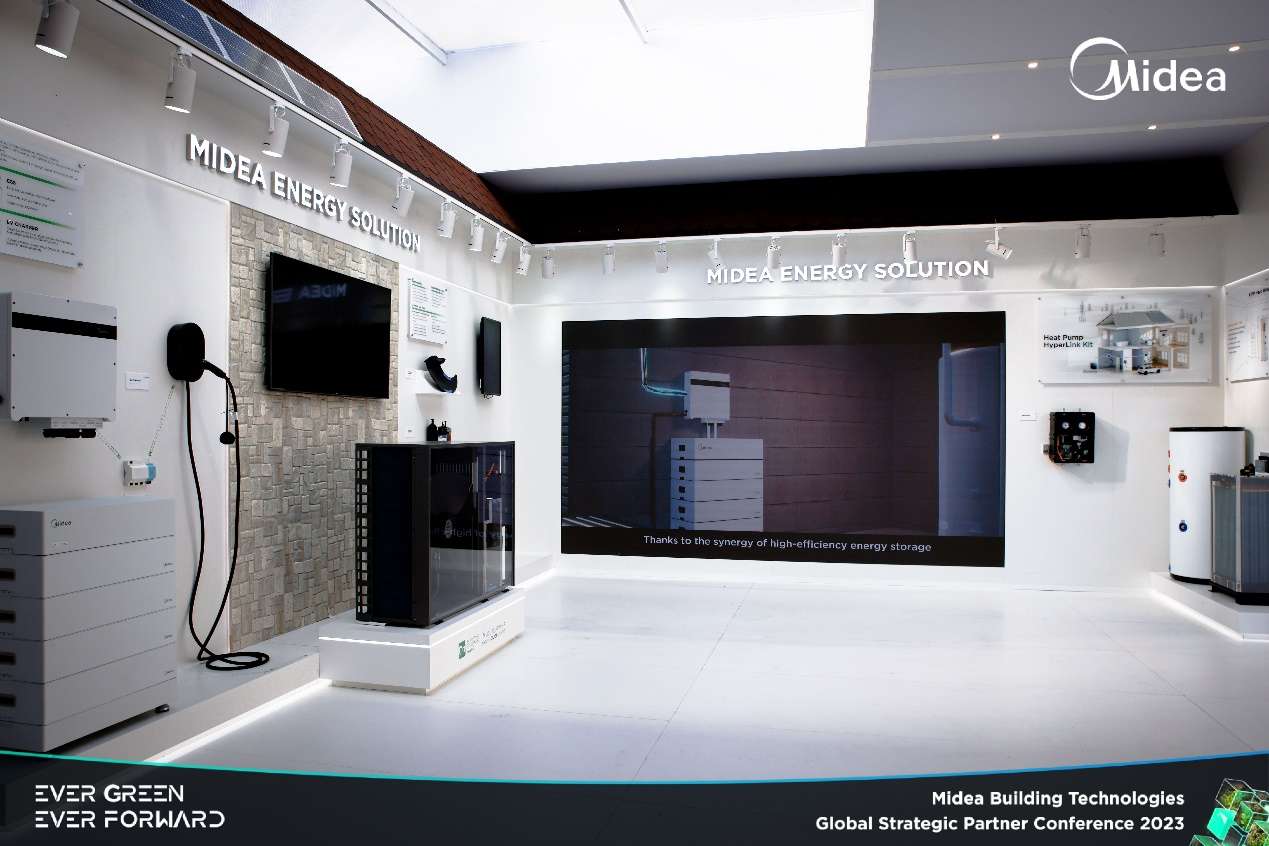 MCube Series Liquid Chiller for Energy Storage System: Efficient and Reliable
Energy storage systems in power stations are often installed in locations with harsh conditions. Meanwhile, chillers that cool high-power energy storage systems are required to maintain stable and reliable operation in all conditions. The newly launched MCube Series Liquid Chiller for Energy Storage System assembles the latest of Midea Building Technologies' cutting-edge technologies. It can operate reliably in various harsh conditions to effectively ensure the safety and stability of energy storage containers. The product is both UL-certified and CE-certified, reaching industry-leading levels.
On top of delivering dependable performance, the MCube Series Liquid Chiller for Energy Storage System can reduce heating power consumption by 75% and improve cooling energy efficiency by 23%. By adopting full inverter intelligent control technology and heat pump technology, the product significantly enhances the adaptability of low-temperature batteries.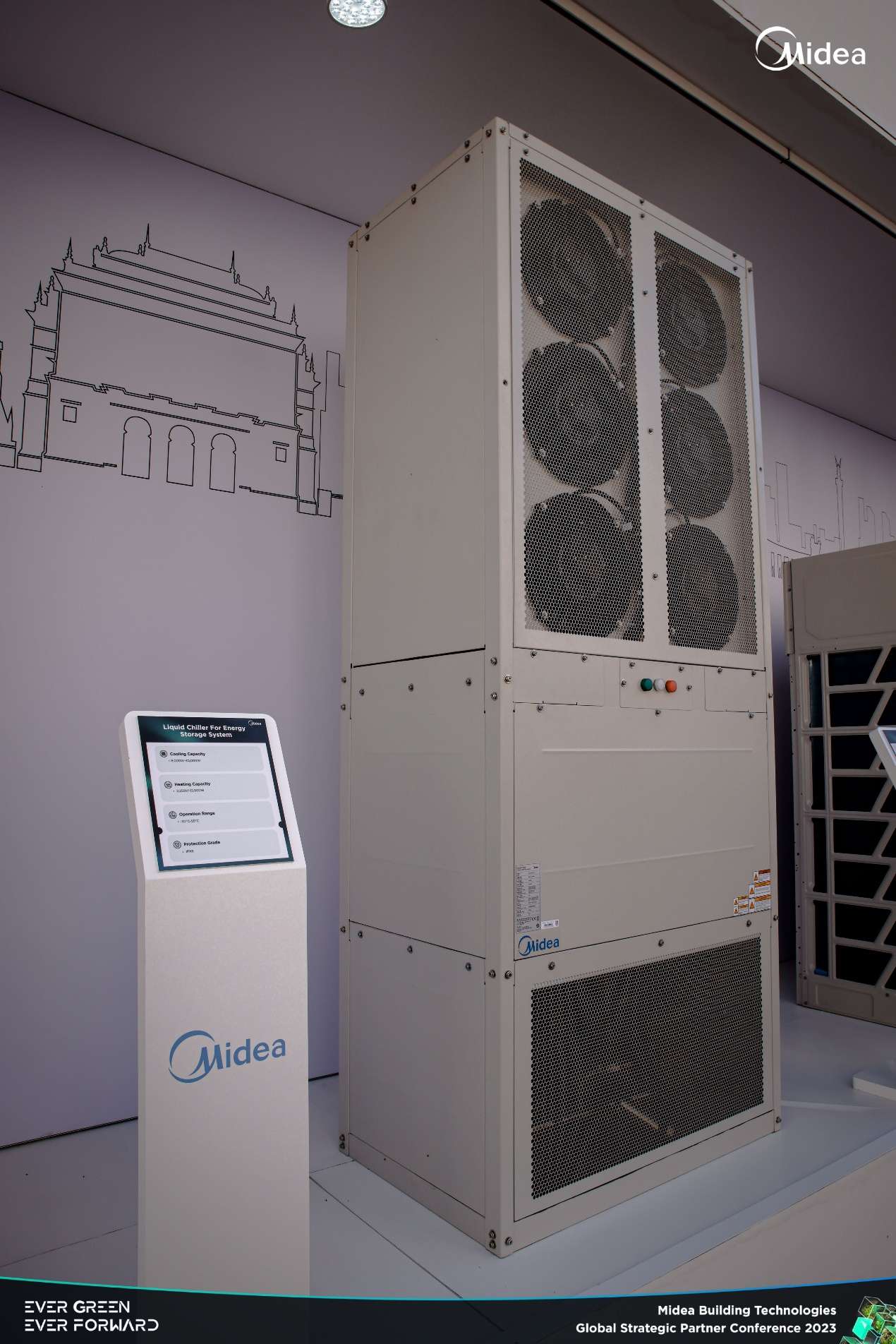 M thermal Nature Series Heat Pump: Ultimate Silence and Low-ambient Operation
The second product revealed at the launch is the new generation M thermal R290 Nature Series Heat Pump. Adopting the R290 refrigerant, which has a GWP as low as 3, the heat pump has achieved several major breakthroughs to realize the ultimate silence, high water leaving temperature, and efficient operation in low temperatures.
The M thermal R290 Nature Series Heat Pump has the advantages of having extremely low noise, high energy efficiency and excellent reliability. It adopts an innovative sound insulation system that effectively reduces the overall noise level of heat pumps by eightfold, attaining a 3-meter operating noise level of 32dB(A). In low temperatures, the R290 Nature Series Heat Pump guarantees high leaving water temperature and strong heating capacity. The product provides up to 80 °C hot water in -10°C . Moreover, it obtained A+++ energy efficiency rating by EU Energy Label standards under 55°C leaving water temperature, redefining high-efficiency heat pumps. The R290 Nature Series Heat Pump is also equipped with fully sealed power board box, with gluing modular PCB, virtual sensors, congestion control algorithms and other exclusive technologies to ensure its intelligent and stable operation.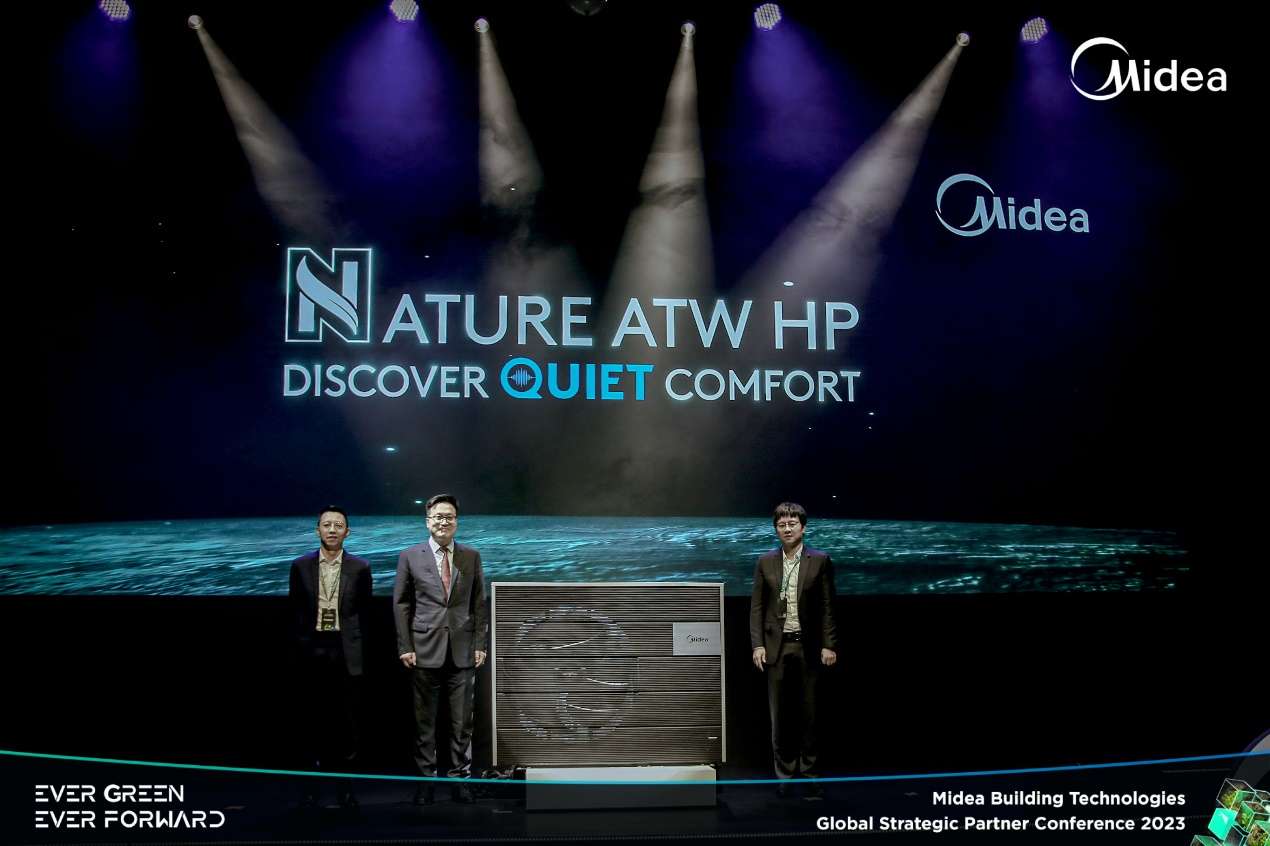 Authorized Certification: The world's first HP Cold-resistance Intertek TICK MARK
The event also saw Intertek awarding Midea Nature Series Heat Pump with the world's first HP Cold-resistant Certified Tick Mark, which recognizes Nature series products that deliver superior performance in hyper-low temperatures. According to the tests and verification by Intertek, the heating capacity of Midea's Nature heat pump at "-22°C" is no less than 80% of the heating capacity at "-10°C". It can operate at a minimum of -25°C and starts normally after 8 hours of standby at -25°C. The certification has proven that Nature series products developed by Midea are in compliance with international safety requirements and quality standards.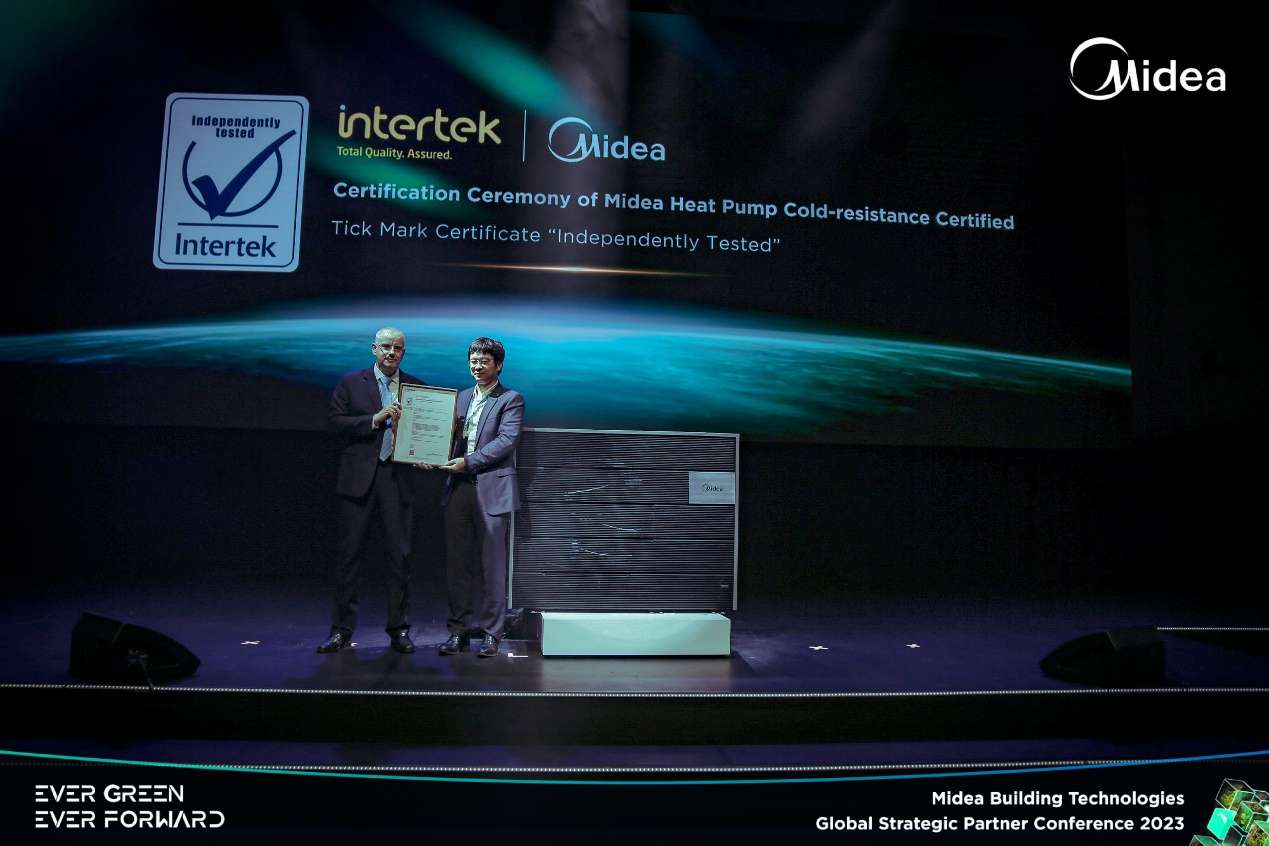 Future Outlook: Market Research by JARN
Soner Tetik, Sales and Marketing Manager for Europe and Middle East, shared the latest market insight on ATW heat pumps at the product launch. Globally, the heat pump market has been rapidly growing, with ATW heat pumps seeing a 21.9% year-on-year increase and a market volume of 4.95 million units in 2022. In the context of global efforts to reach carbon neutrality, products that use low GWP refrigerants are becoming a key industry trend with huge market potential. Midea's newly unveiled Nature series heat pump, which adopts the R290 refrigerant with a GWP of 3, is a reassertion of Midea Building Technologies' forward-looking and accurate insight towards market demands and trends and is expected to promote green transition in the HVAC industry.
Global R&D: Based in Europe, Envision the Globe
Midea Building Technologies implements a business-facing international strategy. The company has established 12 R&D service centers in China, Japan, the U.S., and Europe with over 1300 skilled engineers. In terms of developing key technologies for VRF and heat pumps, Midea Building Technologies has placed a strong emphasis on sustainability, reliability ,energy efficiency and intelligence in an effort to tackle global carbon emissions and aid environmental protection through technology-driven innovation,  
Midea has been actively building a European R&D center and establishing a global R&D network to quickly develop local technology in support of its global client base. The company has also been collaborating with universities and international research institutions to drive technological advances in the industry on a global scale. Midea Building Technologies released the strategic cooperation agreements with Università Politecnica delle Marche from Italy and the University of Illinois from U.S.. The partnership will enable both parties to engage in the development and innovation of products and inject new momentum into the industry.
Sharing Experiences: Advancing with Global Partners
Adhering to its mission to be a user-centric company that progresses together with its global partners, Midea Building Technologies conducted strategy discussions with regional partners from across the world and commended exceptional partners at the new product launch. During the global partner case study session, Brazil shared how they achieved breakthrough VRF sales, Georgia M+ showcased how to improve efficiency through technical services and empowerment, while the PT spoke on growing with Midea Building Technologies and its experience in rapid expansion.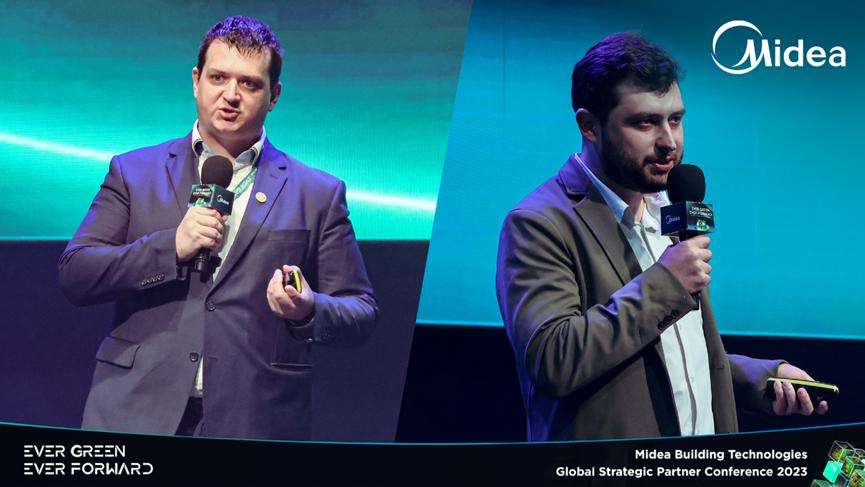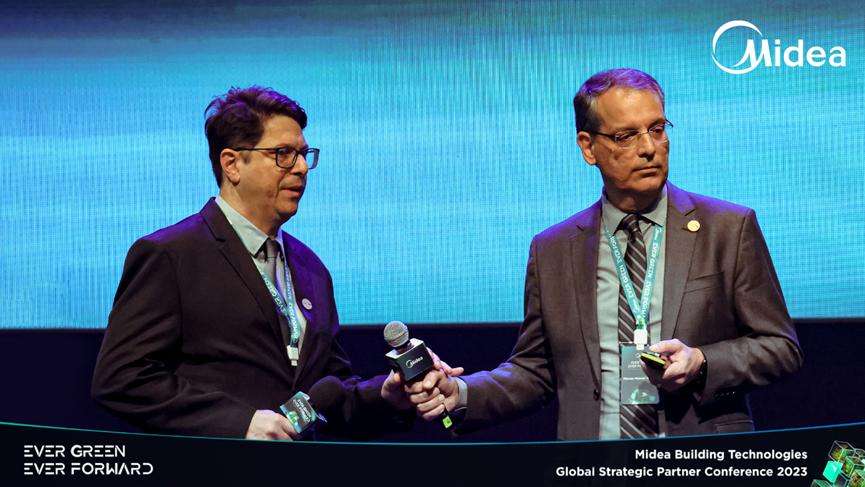 Midea Building Technologies demonstrated its commitment toward "EVER GREEN EVER FORWARD" to a global audience at the 2023 Midea Building Technologies New Product Launch. The future will see Midea Building Technologies embracing challenges, applying sustainable development practices, and promoting green innovation to grow and conquer the future with its global partners.