On April 6th, Midea Building Technologies hosted the 2023 Midea MBT Engineering Conference in Bangkok, Thailand, welcoming the company's dealers, partners, and members of the press. A total of more than 60 companies and about 150 people attended the conference. Themed "Impulse the Innovation", Midea MBT showcased its cutting-edge achievements for chiller and elevator technology, commended outstanding partners in the building technology engineering channel, analyzed professional experiences from partners, and shared fieldwork case studies. The conference demonstrated the company's impressive R&D capabilities and prospects for development to promote and accelerate industry innovation.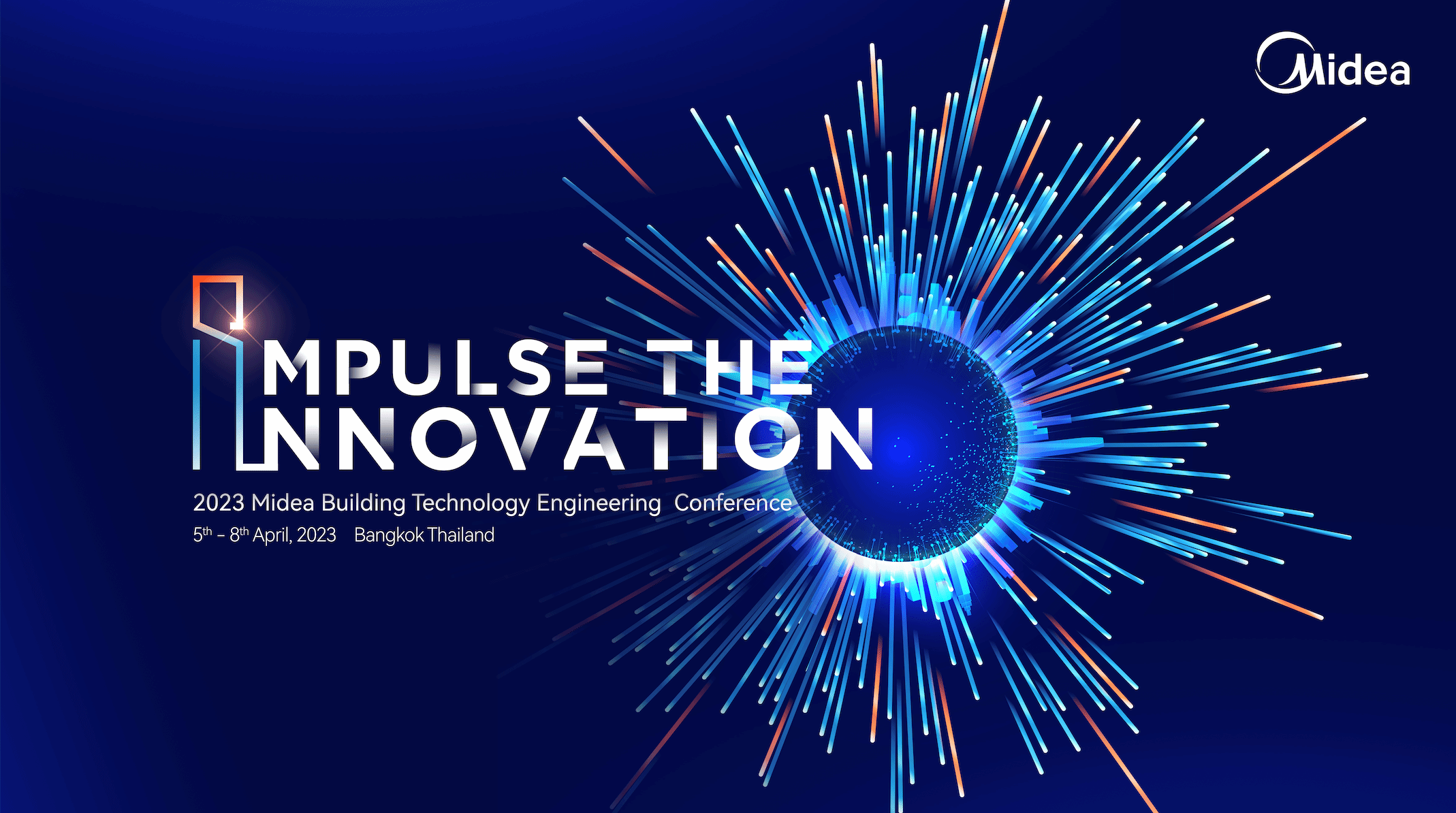 The conference saw the official overseas launch of Midea MBT's Magboost Pro, the new-generation magnetic centrifugal chiller.
According to David Li, Director of Chiller R&D Center, Midea Building Technologies, all core components, key technologies, and patents had been independently developed and are owned by Midea, and Midea has become one of the few brands in the world to master entire magnetic bearing system and centrifugal compressor technologies.
He also introduced the main features of Magboost Pro, which include an ozone depletion potential (ODP) of 0 and a global warming potential (GWP) of 1 for low environmental impact; a cooling capacity that covers 100-1300 tons with 1, 2, and 3 compressors; COP up to 6.99 and IPLV up to 11.95 for more efficiency and energy-savings; ultra-high reliable technology, such as industrial magnetic bearing, self-generation control technology, long-life auxiliary bearing technology, intelligent vibration compensation technology, and more.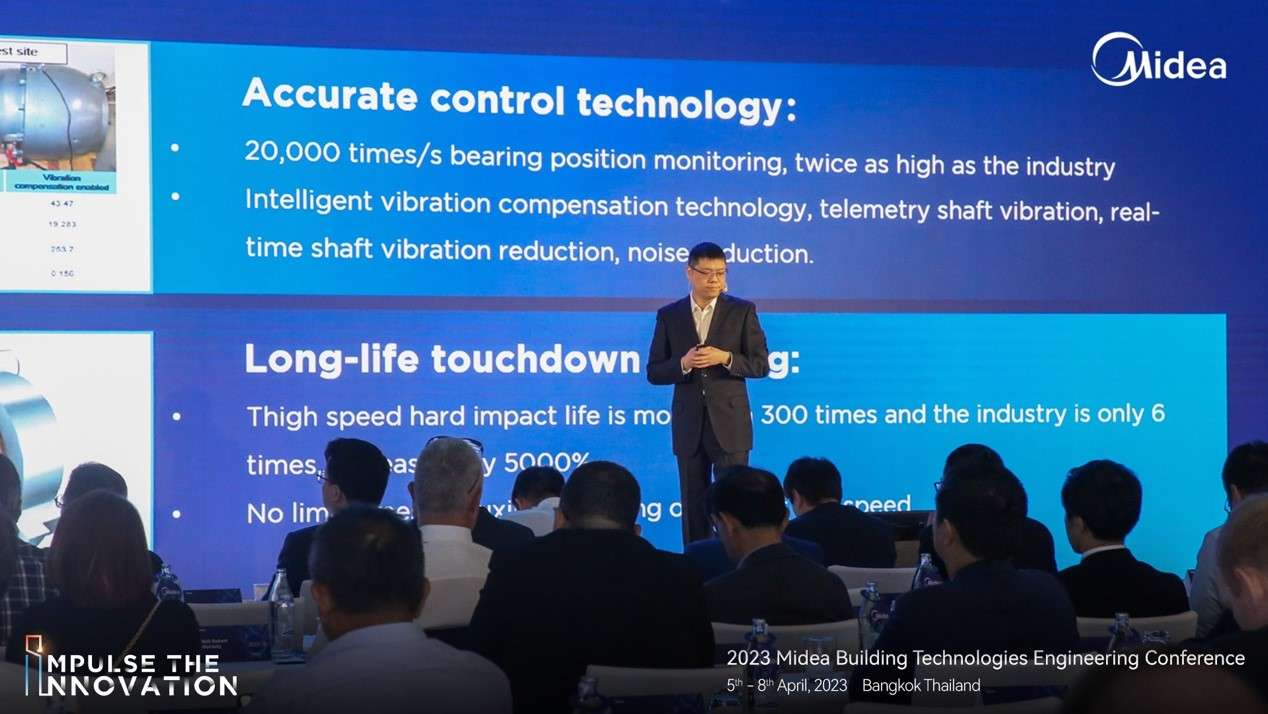 Magboost Pro employs the new refrigerant R1234ze, which delivers enhanced metrics and improved performance compared to mainstream refrigerants like R134a and 1233zd. The R1234ze units yield higher rotations per minute in compressors at a lower weight and mass. Leakage is no longer a concern for the R1234ze, satisfying uses' demand for a sustainable, efficient, and high-quality product.
The release of Magboost Pro highlights a breakthrough in the key technology of centrifugal chillers by Midea MBT. According to data, Midea sold more than 1,600 units of centrifugal chillers in 2022. The overseas launch of Magboost Pro will allow Midea centrifugal chillers to be deployed in more projects abroad.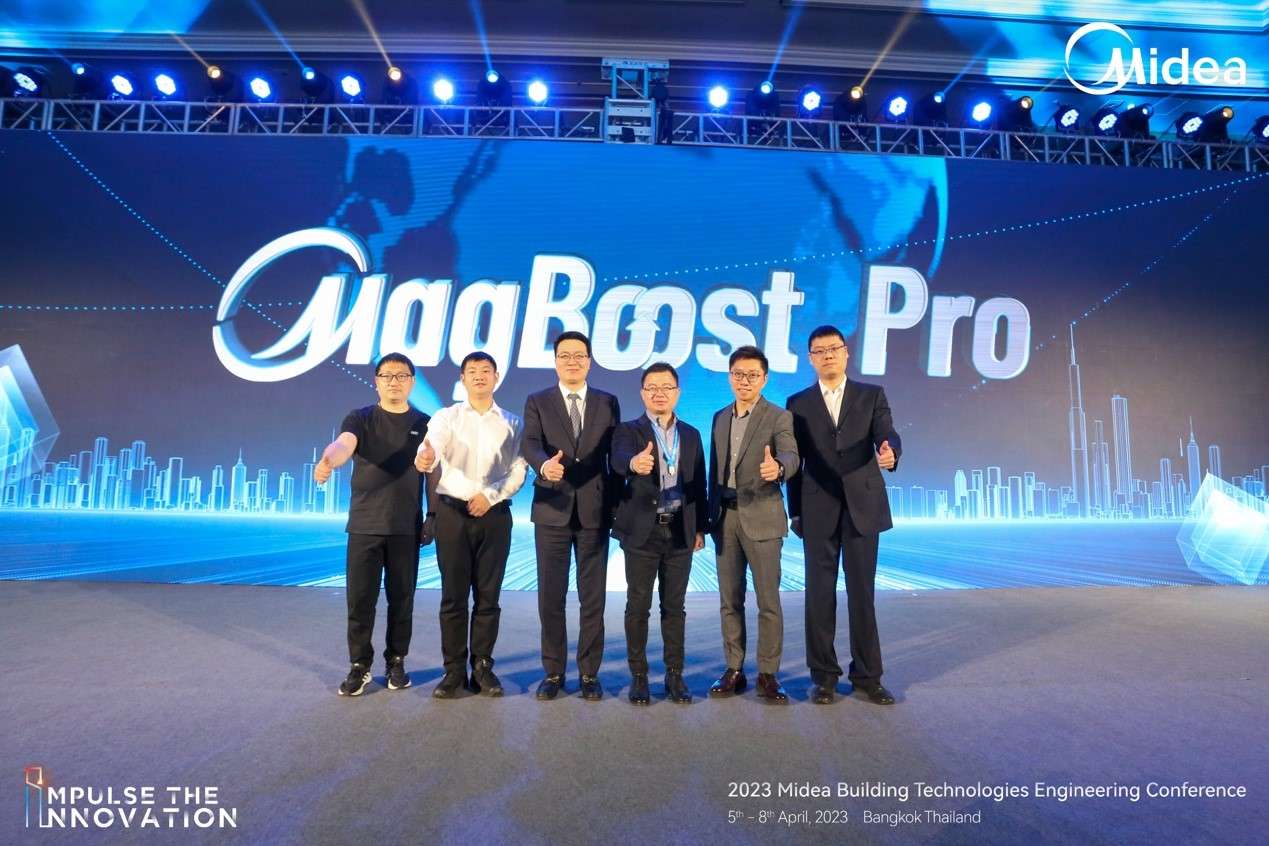 Mr. Rakesh Kumar, a senior consultant for Japan Air Conditioning, Heating & Refrigeration News (JARN), was also invited to present an in-depth analysis of market trends and industry news from the global chiller market.  
In addition to showcasing its latest chiller products, Midea MBT also presented its all-new subsidiary in the elevator business to dealers. David Wang, Head of Elevator Sales Department, Midea Building Technologies, provided an introduction to LINVOL – an expert provider of all-round elevator services, with products ranging from elevators, escalators, automated walkways and residential elevators.
With the support of Midea MBT's global R&D and manufacturing capabilities, as well as key patent technology breakthroughs, LINVOL will accelerate the intelligent digital upgrade of the elevator industry.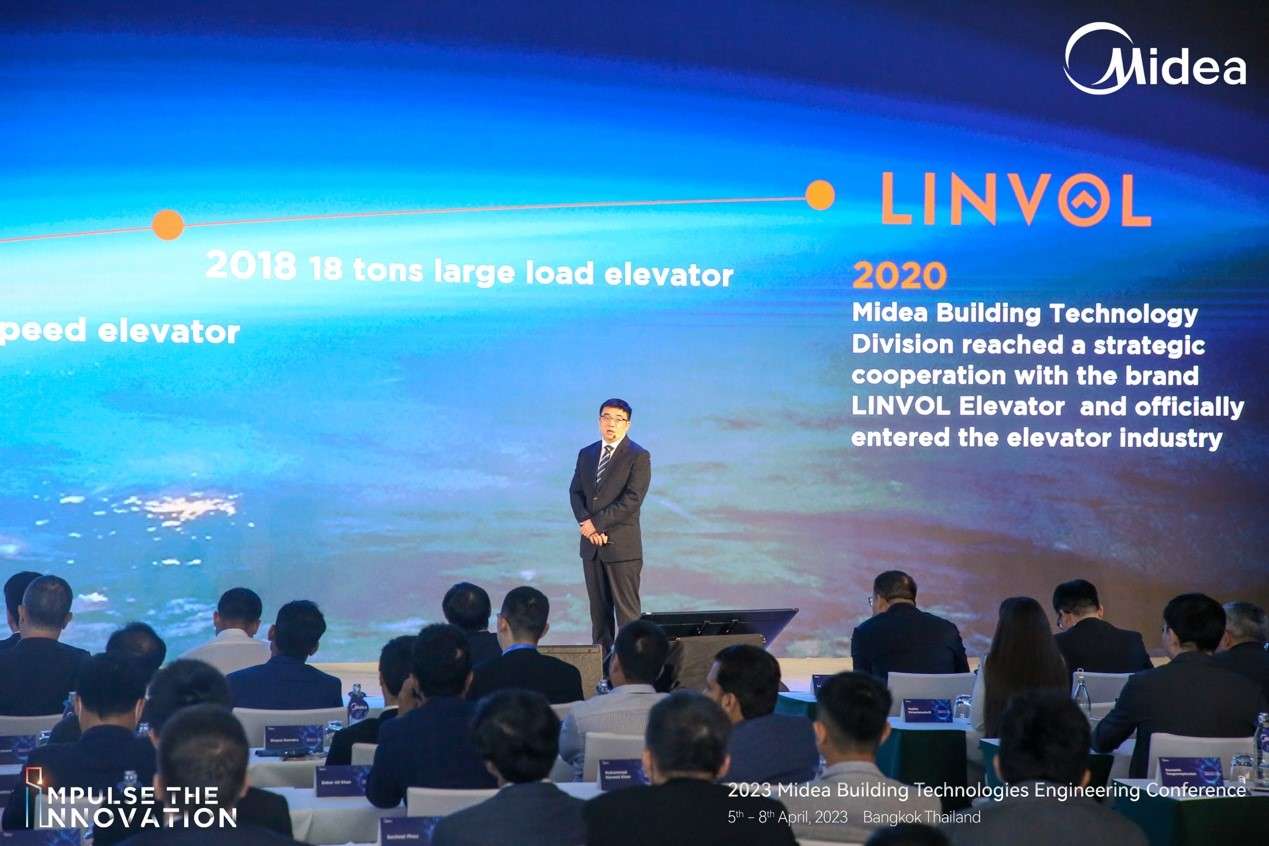 To commemorate the excellent performance of outstanding partners, and to celebrate their support for Midea MBT, the conference included a special awards ceremony where three chiller and elevator partners shared their respective industry experiences. Attendees gained a thorough understanding of district cooling applications in the UAE, high-efficiency solutions for large-scale projects in Thailand, and elevator business expansion among Malaysian clients.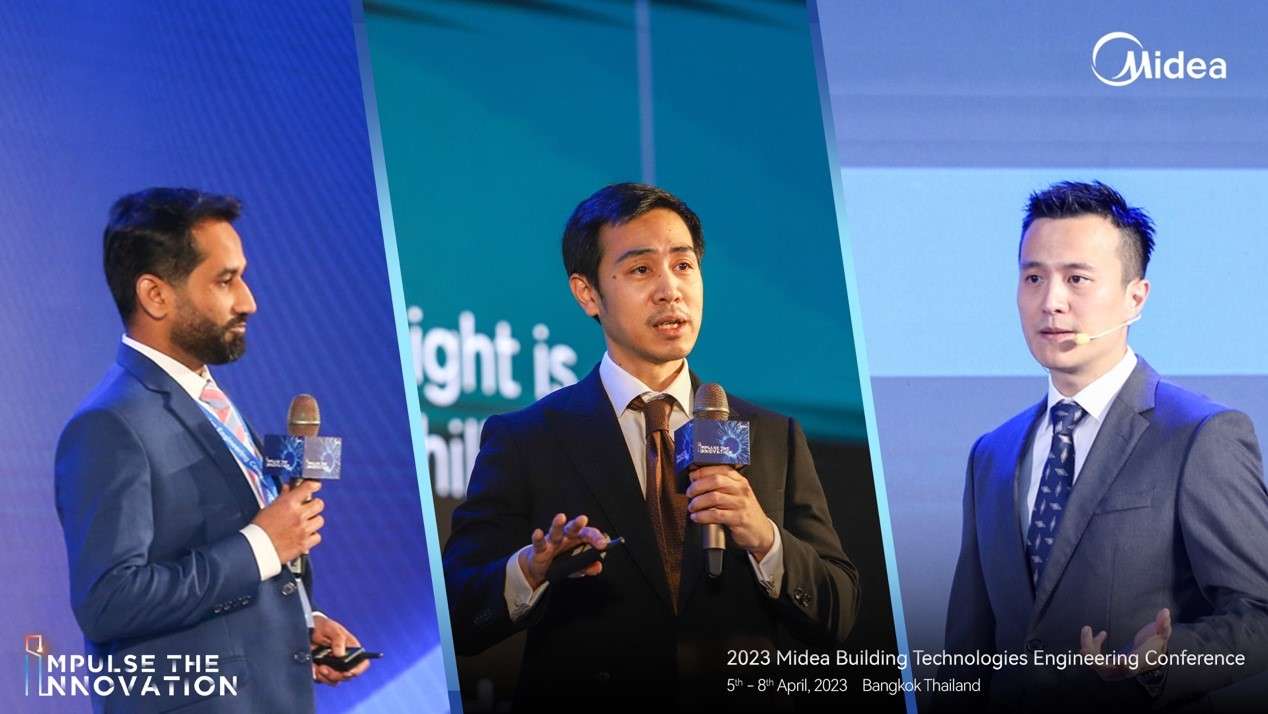 In addition, Midea MBT arranged a field trip to ItalThai Tower, allowing dealers, partners, and the press to experience the superior performance of Midea chillers in person.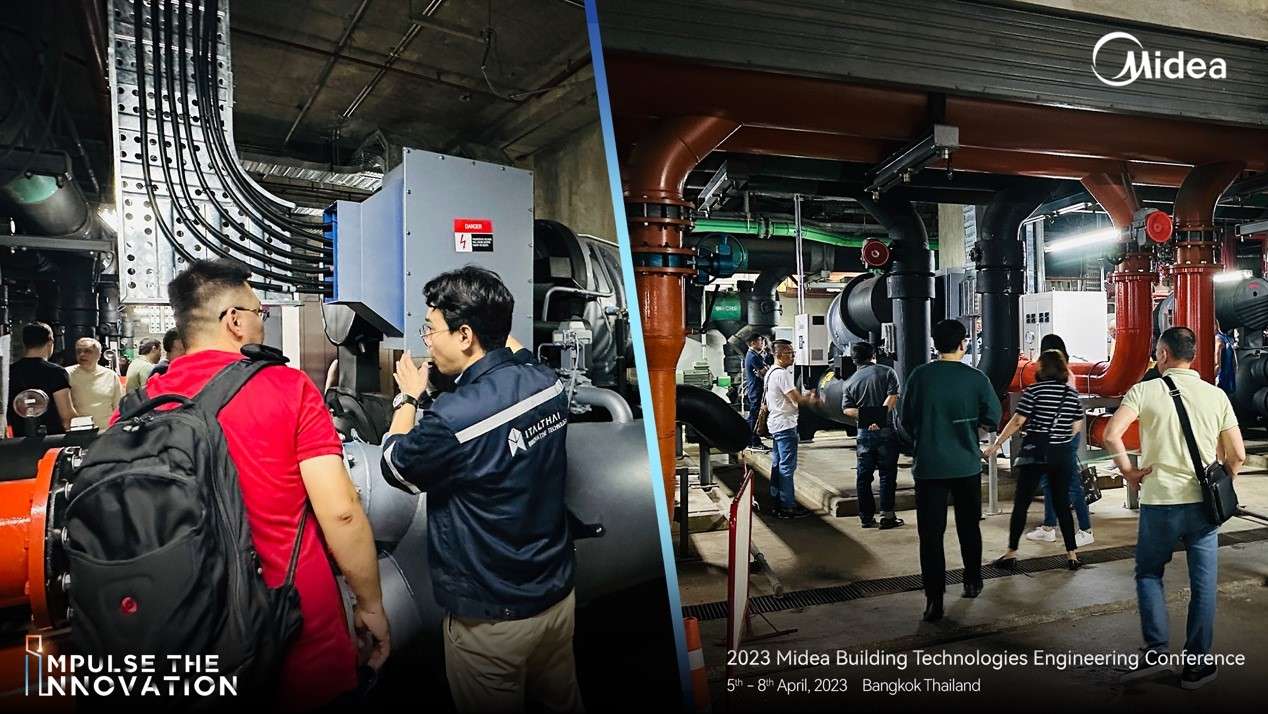 Midea MBT will continue to be innovation-driven in the future. In doing so, the company aims to gain a grasp of the market, break through technical bottlenecks, optimize product performance, and expand product application. The company will develop more efficient, sustainable, and intelligent building solutions that lead the industry to further advancement.