The newly inaugurated Midea Building Technologies showroom has recently opened to industry partners for visits at Midea headquarters in Foshan, China. The showroom is not only a display of Midea Building Technologies' exploration of intelligent building ecosystems but also an extensive account of the company's business expansion and technological breakthroughs.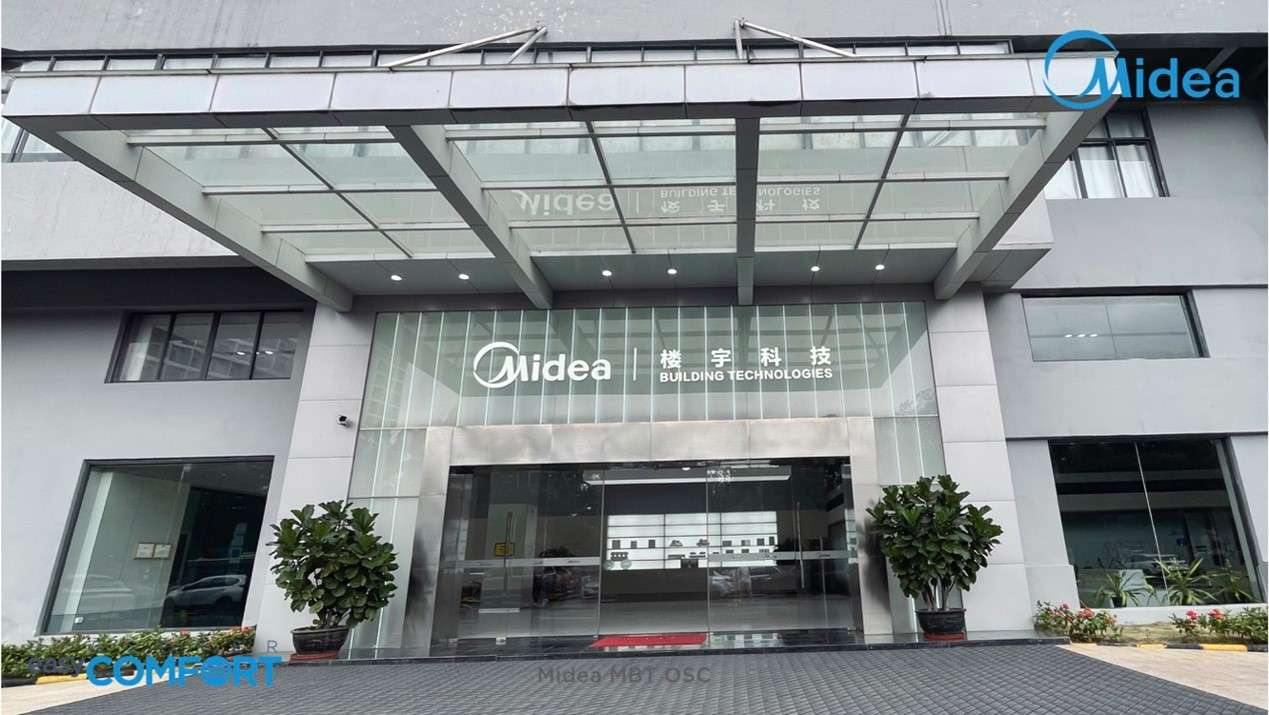 The showroom provides an extensive overview of the Midea Building Technologies history, core technologies, smart and digitally driven innovations, FHPE(Flexible Control, HVAC, Photovoltaic, and Energy Storage) Household Integrated Energy Management Solution, multi-scenario heat pump solutions, the new generation V8 Series VRF, commercial building solutions, GREEN FOR ONE carbon neutralization strategy, and more. Audiences can experience Midea's intelligent buildings and industrial parks in person, and discover industrial applications of Midea products and technologies through real case studies.
With the goal of carbon neutrality now a global consensus, Midea Building Technologies has launched the FHPE Household Integrated Energy Management Solution, which displayed inside the showroom. The solution integrates four modules - photovoltaic, energy storage, heat pump, and flexible control – as a means to improve households' energy self-sufficiency. Families can save up to 70% in energy costs and raise home self-sufficiency rates by 90% with the system, making household energy more sustainable and convenient.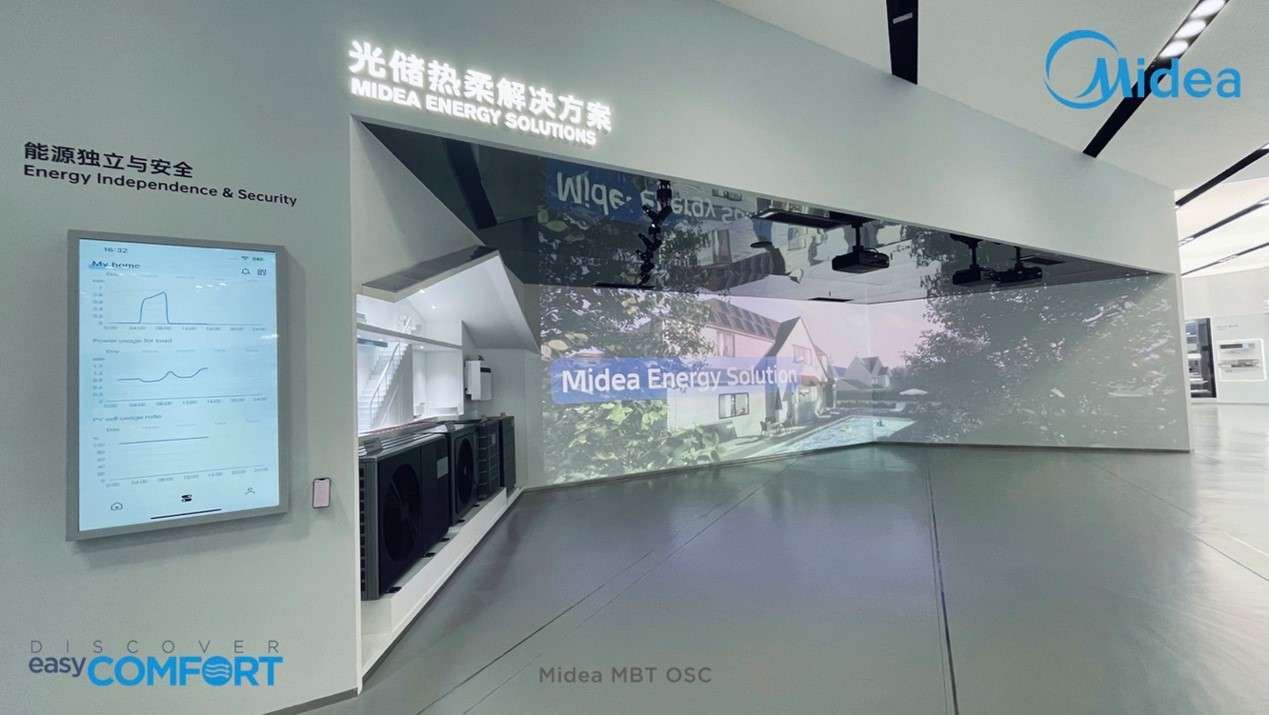 On top of delivering green solutions for energy management, Midea heat pumps also provide a multi-scenario solution for a building's heating, cooling, and hot water systems. The product adopts an eco-friendly refrigerant and is capable of operating in temperature as low as -25℃. Product combinations for different scenarios are also displayed in the showroom, including those for extremely cold climates, non-extreme cold climates, non-refrigeration-operator-certified installer situations, and more. The showroom also showcases Midea's new generation compact high-efficiency heat pump, which adopts the R290 eco-friendly refrigerant and innovative noise- elimination technology, enabling families to enjoy a comfortable, quiet environment in cold winters.
A special area has been set up in the showroom to exhibit Midea's new generation V8 Series VRF. Integrated with features like "reliable quality", "convenient design", "smart and low-carbon technology", this 8th-generation VRF aims to deliver an intelligent, efficient, and health air conditioning solution for various space.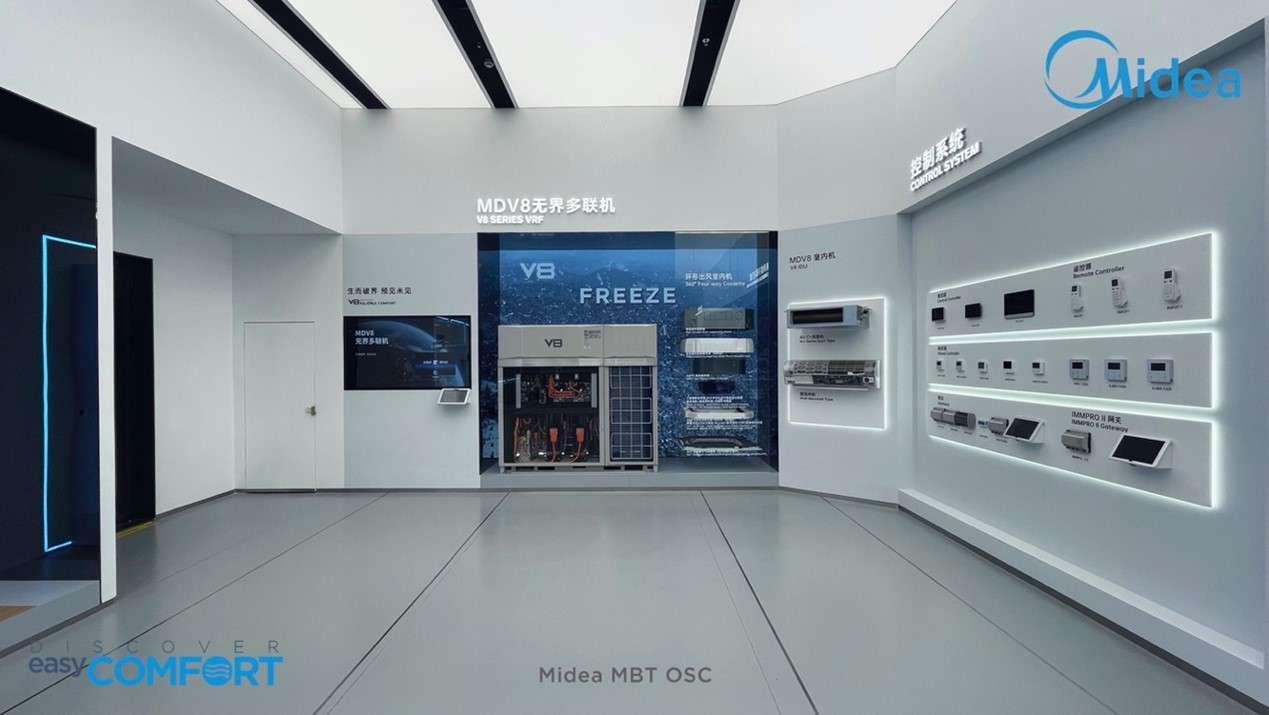 In terms of building automation, Midea KONG provides full-lifecycle services ranging from controllers, building automation systems, intelligent design and construction, and digital solutions. Making use of IT (communications, information technology, AI) and OT (building automation, IoT, building O&M, etc.), KONG creates a new design, construction, and O&M model for "intelligent buildings". The company delivers higher efficiency within a building's full lifecycle, transforming architecture into "lifeforms" that can sense, think, and have warmth.
Midea Building Technologies also provides integrated building solutions for commercial scenarios, spanning large-scale commercial complexes, hotels, high-rise office buildings, and more. The solution covers high-efficiency machinery rooms, VRF, commercial hot water systems, smart elevators, and more. The line-up of chillers, VRF, commercial hot water systems, elevators, etc. make up the most complete product portfolio in the industry. At present, Midea solutions have been applied to several key industrial projects in the field of Intelligent Medical, intelligent rail transit, as well as the Beijing National Stadium, Citi Tower, Guangzhou Baiyun International Airport Terminal 2, Pengcheng Cloud Brain Data Center, 2020 Dubai World Expo, Jakarta-Bandung High-Speed Railway in Indonesia, JA Solar Vietnam Factory, Cambodian Ministry of National Defense building, high-end villa complexes in Greece, and more.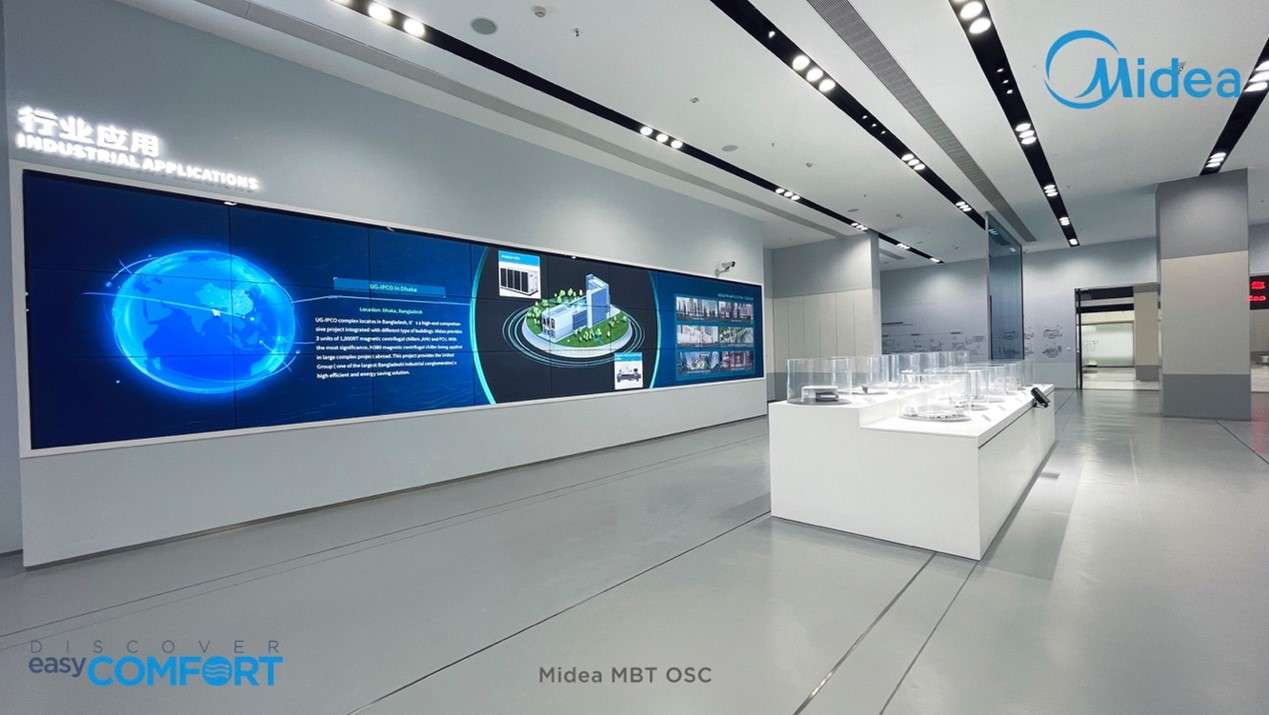 The Midea Building Technologies showroom is not only an exhibition space but also a platform for practicing smart and digitally-driven intelligent ecology. The iBUILDING five-in-one cockpit module allows visitors to gain a comprehensive understanding of the VRF index, chiller management, smart elevator data monitoring, and carbon management system. In particular, the smart digital low-carbon operation system of the Midea's West Zone office building has delivered a comprehensive solution for zero-carbon park system by enabling a green change on the energy supply side, a low-carbon transition on the energy consumption side, and digital management on the energy service side. The low-carbon solution implemented is based on the iBUILDING intelligent building platform and demonstrated through the digital twinning. The solution which has attained digitized energy and carbon management has helped the Midea's West Zone office building achieved zero-carbon operation, which is currently doubly gold-certified by LEED and WELL and achieves carbon neutrality certification.                                         
In response to the global consensus to reach carbon neutralization, Midea Building Technologies released the "GREEN FOR ONE" carbon neutralization strategy in 2023. The plan aims to deliver low-carbon services throughout the entire life cycle of every building. On top of acting as a platform that displays Midea Building Technologies' products and technological achievements, the brand-new showroom also serves as a window to view the future of sustainable and digital development in the industry.