This 280,000-square-meter campus, which includes dedicated spaces for both offices and commercial businesses, is capable of accommodating up to 12,000 employees for work and spending. After its full integration, Midea's iBUILDING digitalization platform has connected over 26,000 devices and 286,000 data points, addressing the issue of information silos and promoting the interconnection of individuals, equipment, and space.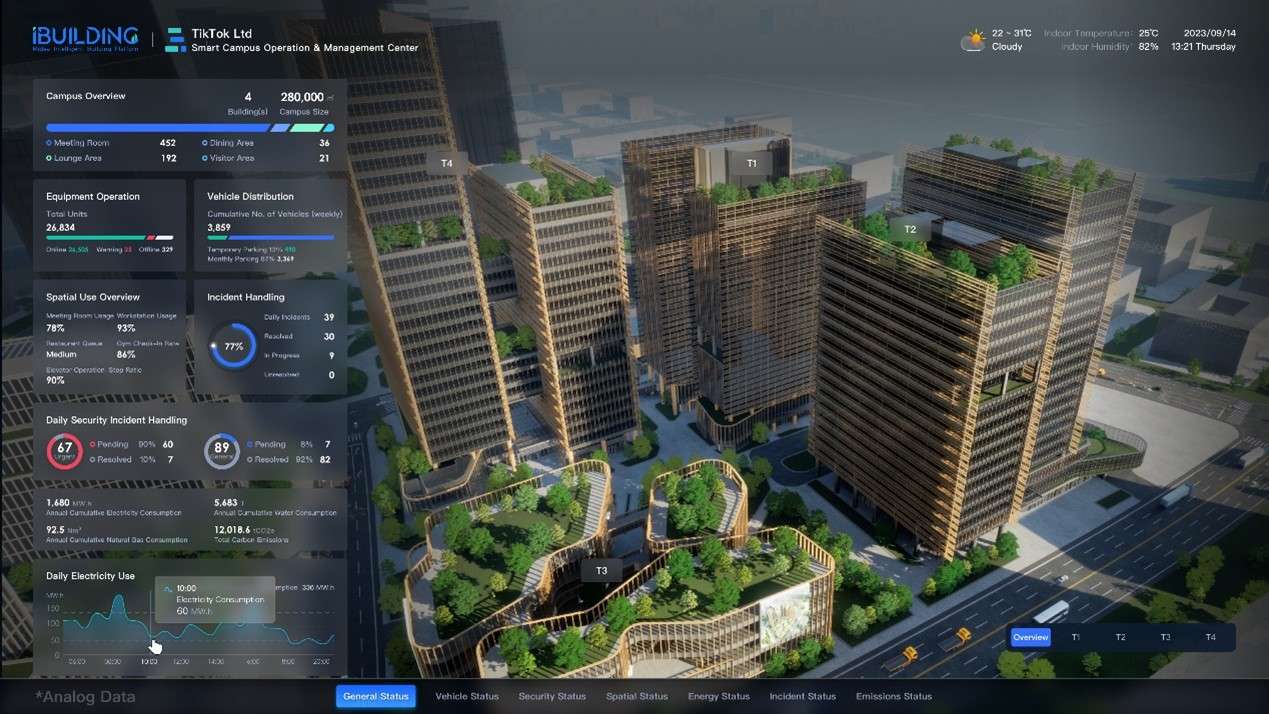 According to Xu Biao, project leader for the smart campus's construction and Director of the Operations and Delivery Center at Midea Building Technologies Research Institute, energy efficiency, labor efficiency, and spatial efficiency are key indicators of success in the digital transformation process. The entire project was implemented under the Digitalization, Engineering, Procurement, Construction, and Operation (DEPCO) model for smart buildings, which encompasses the integrated delivery of both software and hardware, as well as the full project lifecycle of delivery and operation to maximize operational value. Midea Building Technologies iBUILDING and Volcano Engine have collaborated closely to address low-carbon energy-saving practices and efficient operation, creating a comprehensive "1+7" smart campus solution that infuses the workspace with a green and digital essence of intelligence.
The  "1" refers to the iBUILDING digital platform, while the "7" refers to applications including the unified portal and equipment management system, intelligent parking management system, O&M work order management system, comprehensive energy management system, carbon management system, and the Intelligent Operation Center. iBuilding serves as the central command, integrating building automation systems (BAS), communication automation systems (CAS), and fire automation systems (FAS), providing services for office, operation, and security scenarios to deliver a user-friendly, smart, green, and efficient campus management experience. For instance, the intelligent parking management system, which employs AI recognition, IoT, and cloud technology, is expected to improve the overall usage rate of parking spaces by 10%. In terms of operations and maintenance, the digital O&M work order management system has replaced traditional paper records and manual operations, enabling automated task generation and real-time data acquisition, significantly improving work efficiency and service quality.
Thanks to its industry-leading digital twin technology, Midea's Intelligent Operation Center has been included in Fortune China 2023's Best Design List. Midea's Zero Carbon Park Solution has also been shortlisted for Wall Street CN's inaugural ESG Annual Innovation Experiment List. Meanwhile, the Midea Industrial Park West Zone has been awarded dual gold certifications from LEED and WELL. At present, iBUILDING has obtained over 80 copyright patents, 15 patent certificates, and more than 30 international design awards.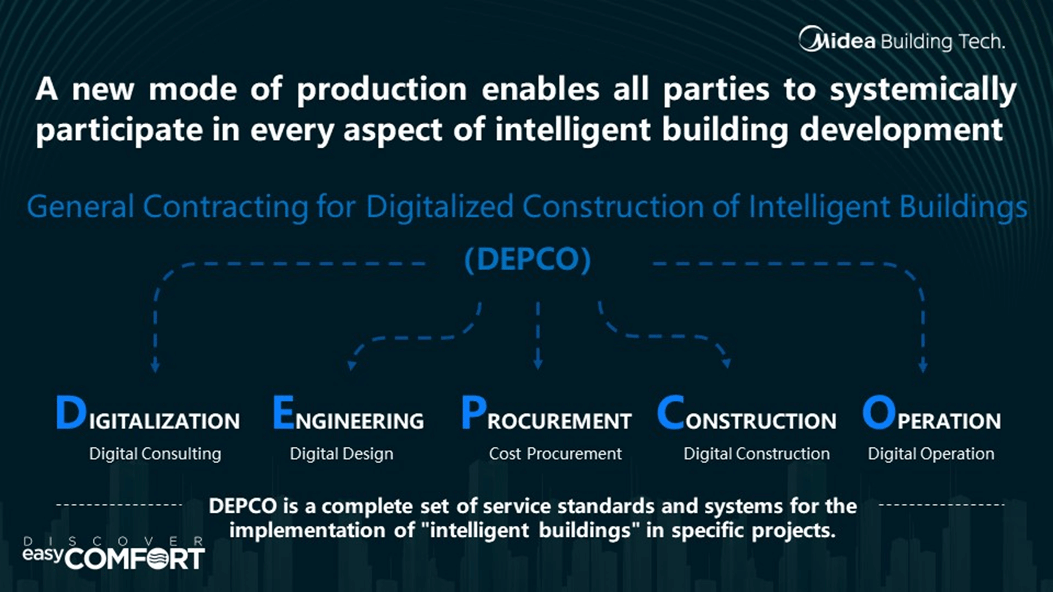 Midea's iBUILDING comprehensive smart campus solution covers intelligent transportation, intelligent services, intelligent O&M, intelligent office, digital displays, virtual powerplant – flexible loads, and includes a series of digital applications such as its Intelligent Operation Center and the unified equipment management platform.
"Moving forward, Midea Building Technologies will continue to collaborate with more partners to continuously improve the integrity and practicality of the DEPCO system, providing guidance and references for the construction of ever-increasing smart campuses," said Xu Biao.
As the world continues to accelerate toward the path of digital transformation, Midea Building Technologies will continue to explore the integration of smart technology and sustainability in alignment with the brand's mission to support smart city construction and green industry upgrades, advancing the green development of global building technologies.