On November 15, the 22nd Piscine Global Europe officially opened in Lyon, France.  As one of the world's largest and most influential swimming pool and wellness events, Piscine Global Europe brings together cutting-edge technology and innovative products available to the industry. Over 1,200 exhibitors from around the world gathered to showcase a diverse range of products and services, including private and commercial pools, health and fitness equipment, as well as outdoor furniture and accessories.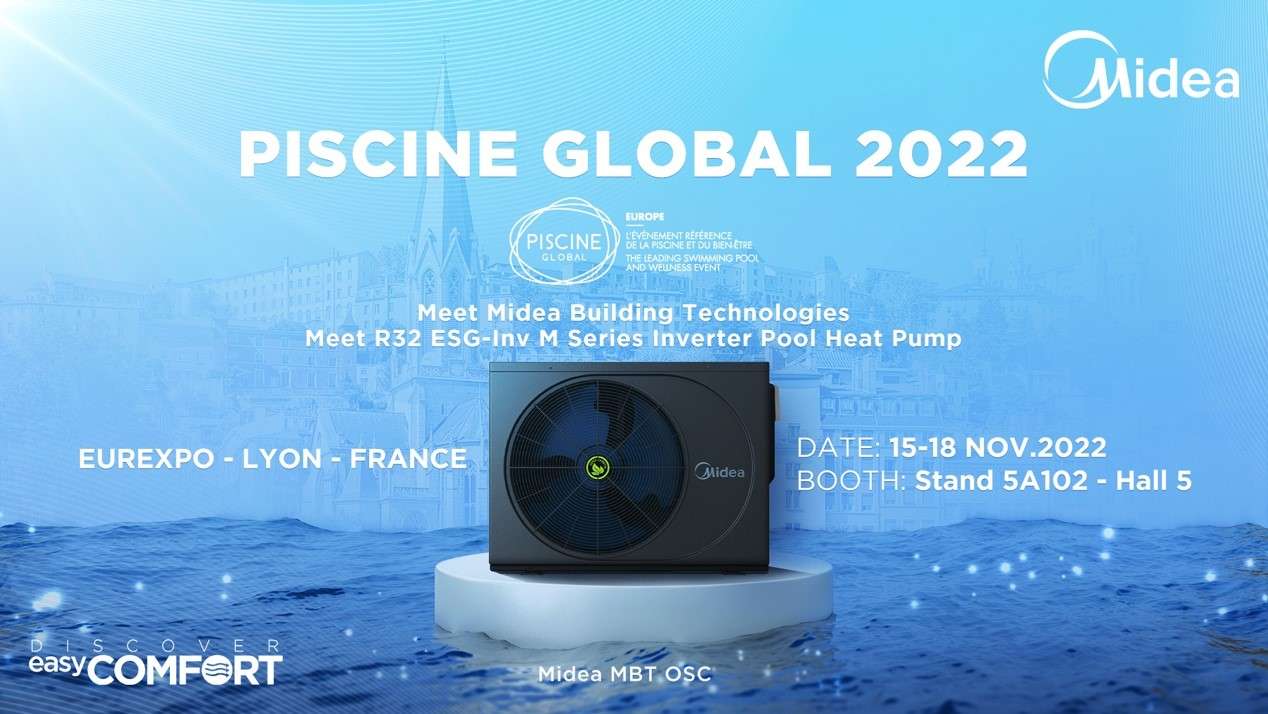 Midea Building Technologies presented the one-stop green solutions including M thermal Arctic Series ATW Heat Pump, R32 ESG-Inv M Series Inverter Pool Heat Pump, and residential energy storage system at Piscine Global 2022. Midea M thermal Arctic Series ATW Heat Pump integrates space heating & cooling, and domestic hot water into one comprehensive solution with an added function of household energy management. The product enables smart multi-zone control with the smartphone app MSmartLife, allowing users to independently adjust the temperatures of separate indoor spaces for an enjoyable environment throughout the entire year.
Midea ESG-Inv M Series Inverter Pool Heat Pump, on the other hand, is manufactured on a zero-carbon production line which is SGS-certified and adopts the environmentally friendly R32 refrigerant. On top of heating and cooling modes, the pool heat pump offers boost mode and silence mode to satisfy a variety of user demands. On boost mode, the heat pump's capacity is enhanced by 16% at least and sees the same heating capacity at 15℃ ambient temperature as its normal mode at 27℃. On silent mode, the heat pump produces only 38 decibels within a one-meter distance for a more comfortable swimming experience.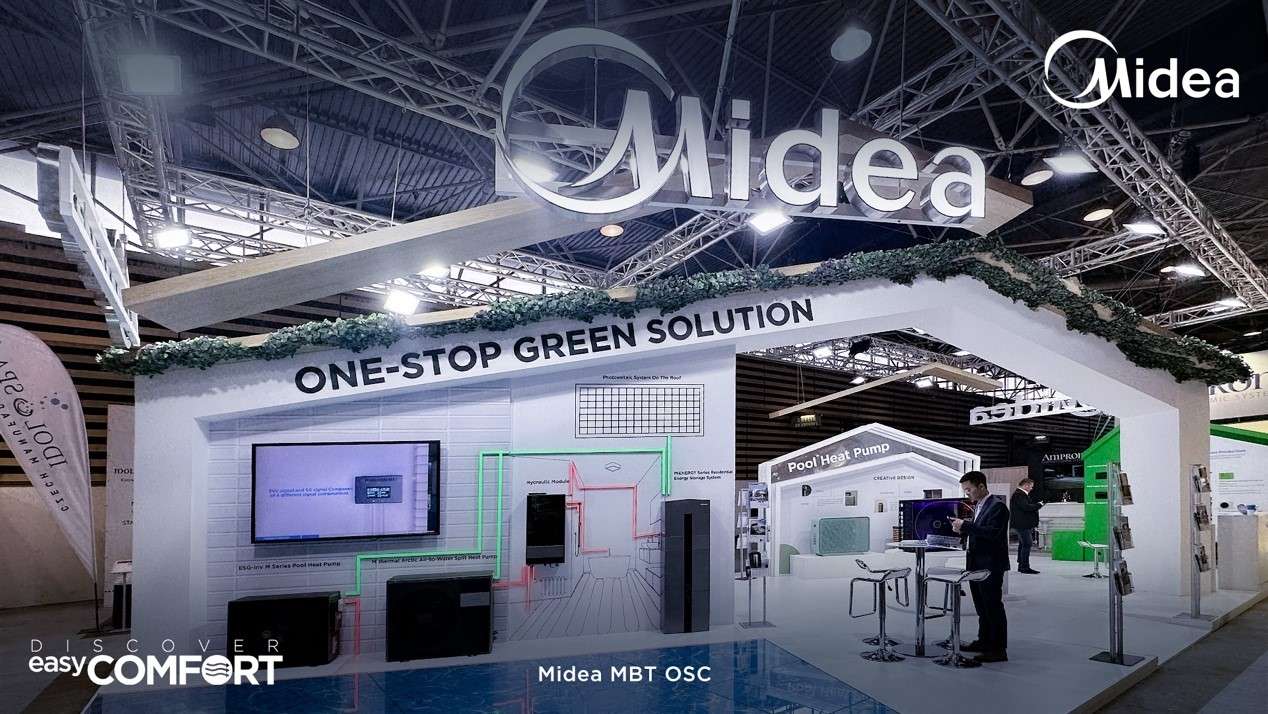 For the purposes of energy saving and carbon reduction, both M thermal Arctic Series and ESG-Inv M Series can utilize clean energy generated from rooftop PV panels that can be connected to an energy storage system. At the exhibition,
Midea Building Technologies also presented the residential energy storage system, which stores excess solar energy and provides safe and uninterrupted power supply for households. The products work together to form a low-carbon, green, one-stop solution for space heating, domestic hot water, and pool heating.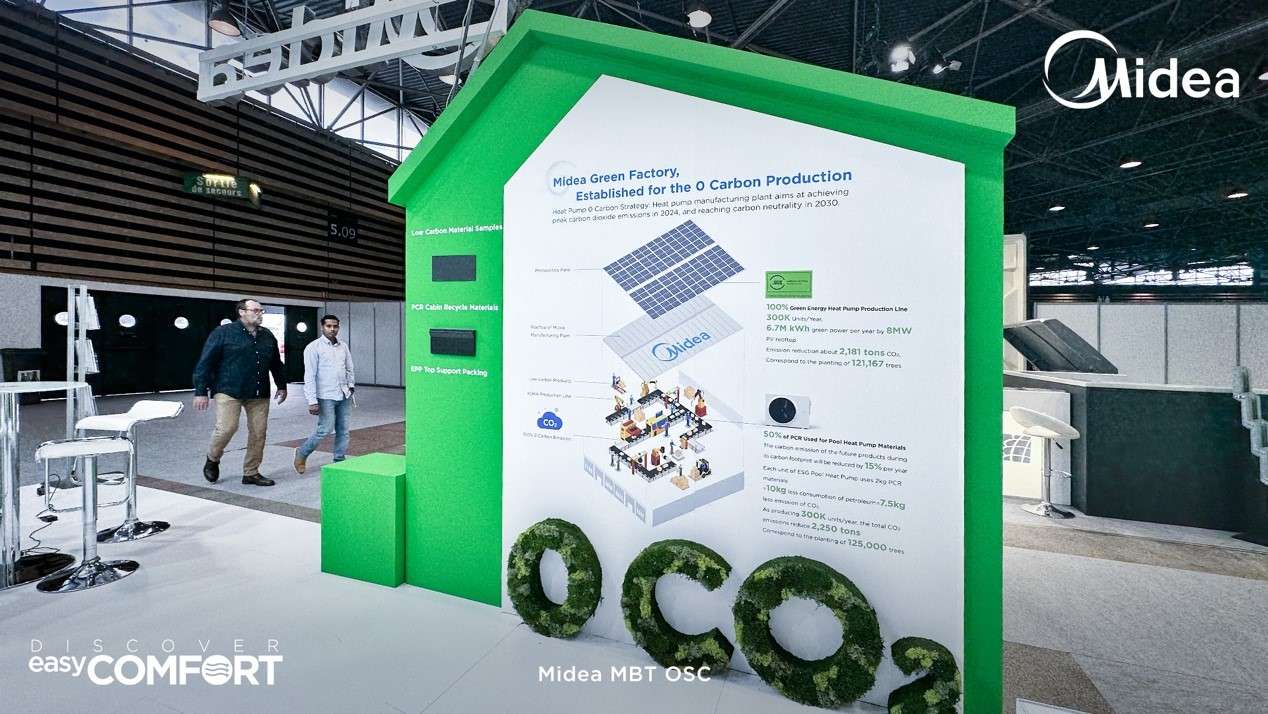 In the context of the energy crisis and global climate goals, the exhibition placed great importance on energy-saving and environmentally friendly products. The one-stop green solutions presented by Midea Building Technologies were therefore a major attraction for both visitors and industry experts. On the user end, Midea's energy storage solution allows clients to store and use clean energy with greater safety and improved efficiency, lowering carbon emissions; on the production end, Midea's net-zero production lines, recycled refrigerants, use of solar power, increased energy storage equipment, and automation upgrades have transitioned the manufacturing process towards net-zero, taking a step closer towards carbon neutral goals.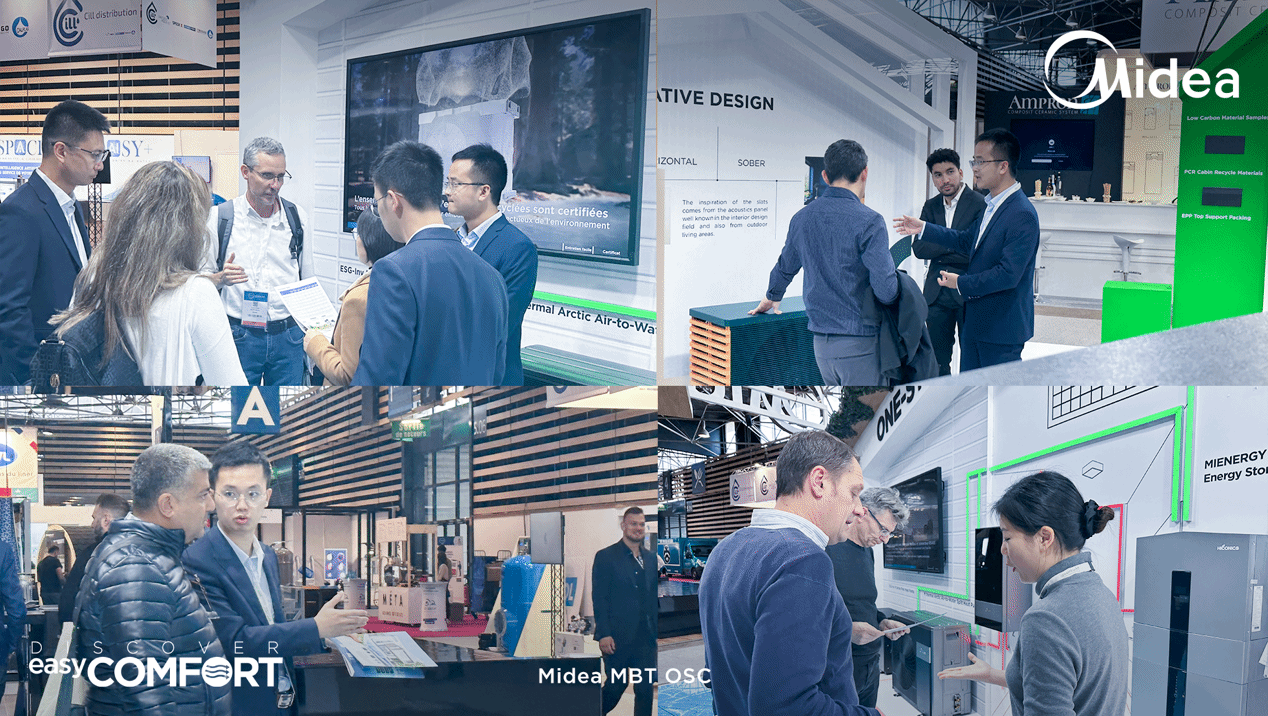 The exhibition booth of Midea Building Technologies received a huge turnout throughout the four-day exhibition. Industry professionals, construction and real estate developers, HVAC buyers, and distributors expressed their intention to cooperate with Midea Building Technologies after a detailed introduction of the climate-friendly solutions.  With rising demand for energy-saving heat pump products in Europe, Midea welcomes a wave of development opportunities in the continent and the global market. In an effort to help combat the energy crisis, Midea Building Technologies will continue promoting net-zero initiatives and deliver products with better efficiency, lower carbon emission, and greater reliability.