The project of Midea Building Technologies Industrial Park has been certified the LEED and WELL Gold. On September 16, LEED ID+C Gold Certification Award Ceremony was held in the Midea Building Technologies Industrial Park. Du Risheng, Managing Director of USGBC North Asia, awarded the project its distinguished gold plaque. The awarding ceremony was attended by Wang Xueni, Marketing Specialist of USGBC North Asia; Zhou Wenting, Sales Manager of Commodities and Industrial Equipment at Bureau Veritas; Zhang Shuai, Chief Operating Officer of Midea Building Technologies; Meng Tao, Director of Midea Building Technologies Research Institute; Yang Pengyu, Director of Solutions and Delivery at Midea Building Technologies; Wang Zuozhong, Head of Low Carbon Operations at Midea Building Technologies.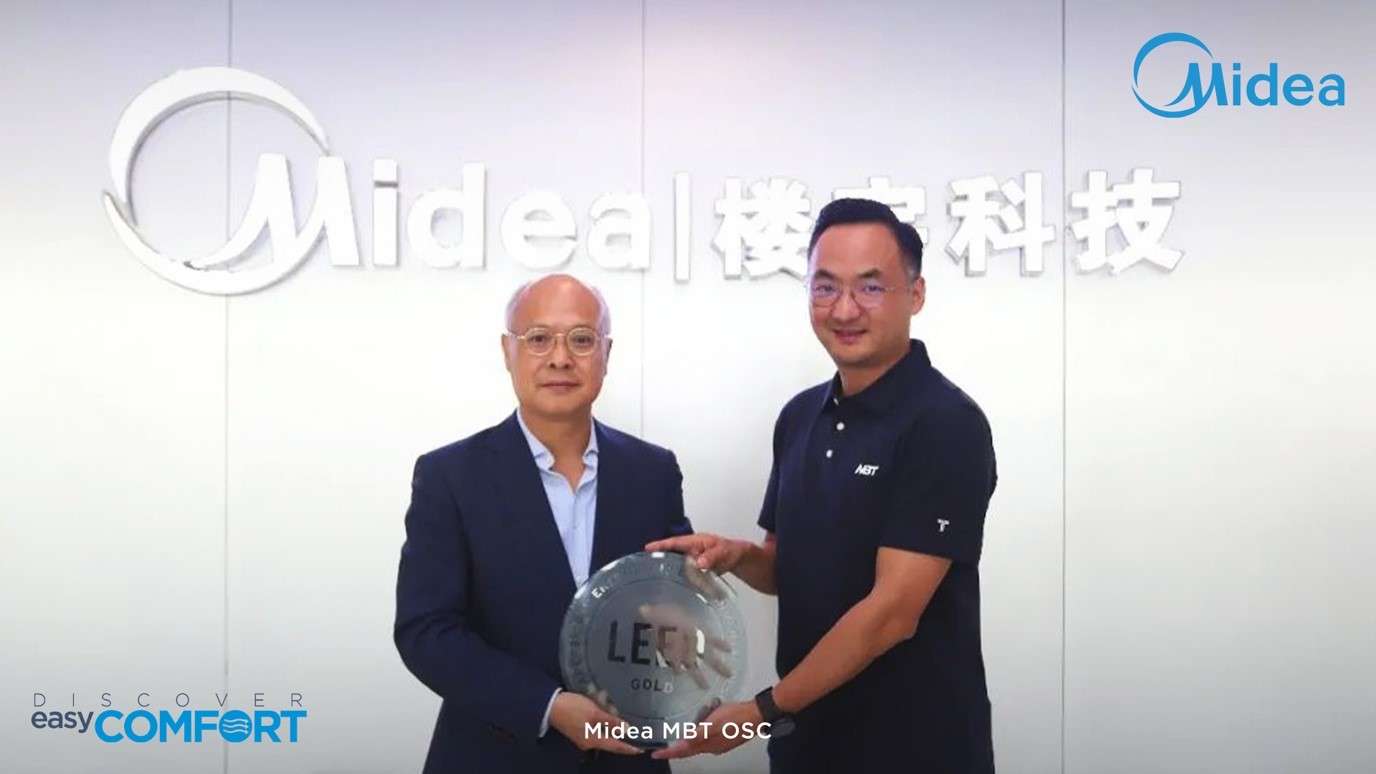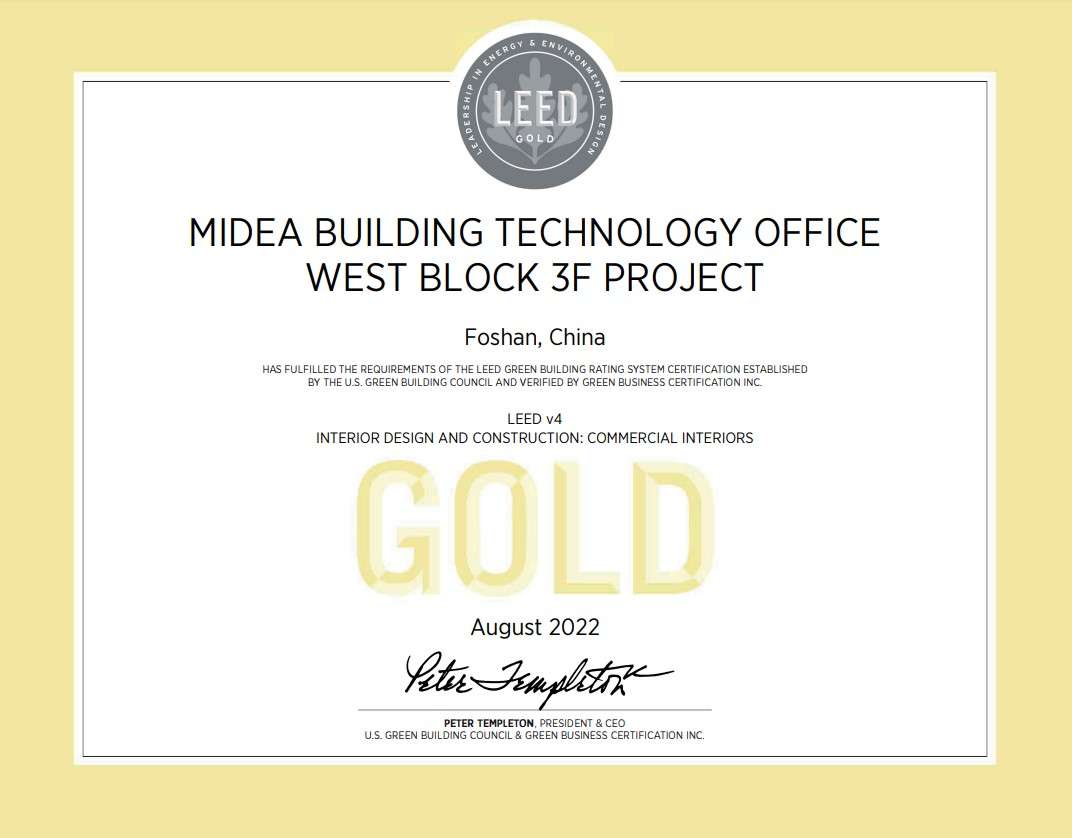 The LEED ID+C Gold Certification is a recognition of the outstanding efforts of Midea Building Technologies Industrial Park in building an environmentally-friendly and energy-saving community and positive response to China "3060" carbon neutral policy. The WELL Gold Certification was given in affirmation of the undertaking to prioritize  employees' health, safety, and comfort. Being doubly awarded in gold certifications by two globally-recognized building rating system has proven that Midea Building Technologies' endeavours in the field of green buildings have been acknowledged by the industry. 
LEED&WELL
Globally Recognized Standard for Green and Health Leadership in Buildings
LEED, or Leadership in Energy & Environmental Design, is a green building rating system offered by the United States Green Building Council (USGBC) since 2000. It is considered as the most widely used green building classification system, globally recognized by countries of all climate zones.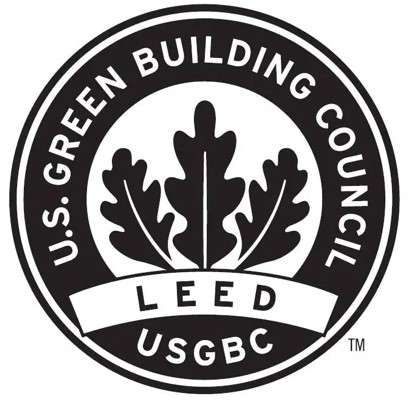 The WELL Certification, awarded by the International WELL Building Institute from 2014, is the world's first building standard that focuses on human health and well-being. WELL focuses its planning and operations  on ten core concepts that affect a person's health and well-being: air, water, nutrition, light, movement, thermal comfort, sound, materials, mind and community. The standard is backed by research that spans from buildings to entire urban communities, aiming to support human health and well-being in community life, work, entertainment and other aspects through feasible actions and interventions.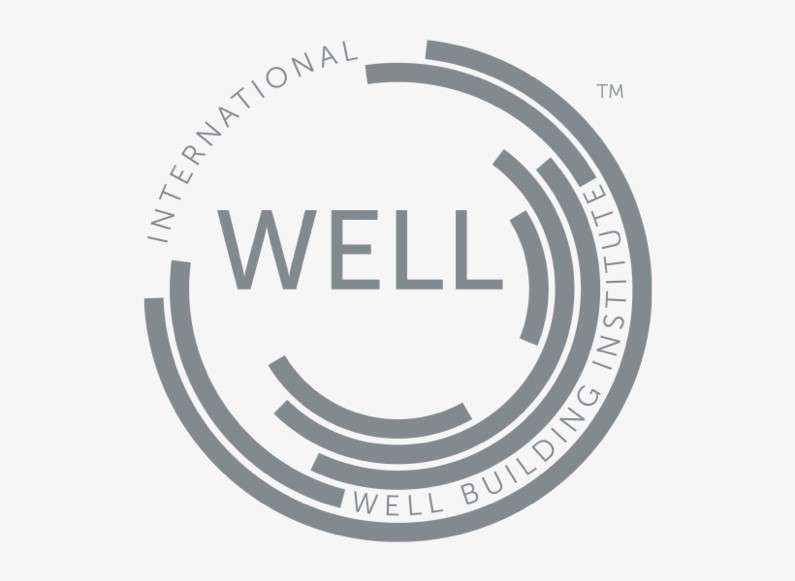 Green Benchmark for Smart Industrial Parks
Midea Building Technologies Industrial Park has achieved carbon neutrality in its office areas through improved equipment efficiency (high-efficiency heat recovery VRF, elevator energy feedback), improved system efficiency (building automation, intelligent lighting, smart operation), energy structure optimization (solar power generation, high-efficiency energy storage), carbon sink trade (emissions trading, purchasing green equity), and smart offices (flexible office, borderless meeting, smart access). These practices have engineered the industrial park into a sustainable, digital building complex that acts as a model display for low-carbon practices that offers a fully digital experience with efficient operation and maintenance.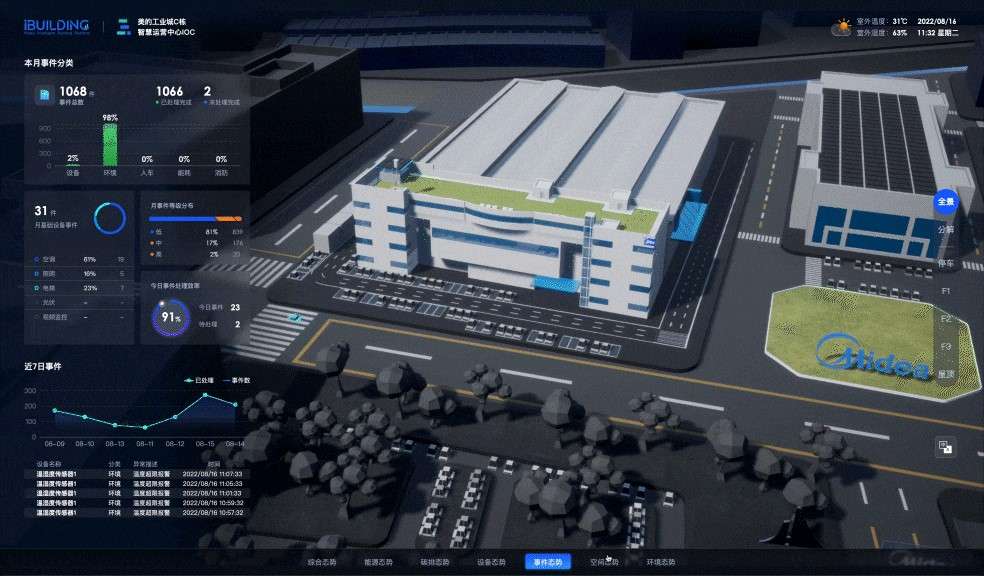 Sustainable & Energy-Saving PracticesThe intelligent building platform has transformed an energy intensive manufacturer into a low-carbon benchmark by creating a pathway between Midea Building Technologies Industrial Park's power grid system, carbon trading system, energy system and HVAC system.
On the power generation side, the solar energy and storage project, developed by utilizing existing office rooftop space, will be used to offset fossil energy consumption; emission reduction through solar power generation is expected to reach over 35%.
On the energy consumption front, multiple measures have been undertaken to achieve energy savings around the HVAC, elevator, lighting, and production systems: the digital sensor-equipped V8 VRF conserves energy proactively through its smart features including spatial characteristic recognition, system refrigerant temperature determination, and IDU air flow self-adjustment;
LINVOL Digital Intelligence Elevator is fit with an energy recovery module, which converts the potential energy into electricity; the factory is equipped with the refrigerant recovery device to realize 99% refrigerant recycling and reduce carbon emission. The intelligent building platform also connects the carbon management system with the power grid system to realize carbon emission monitoring and analysis, electricity consumption optimization, as well as carbon trading and renewable energy trading, all of which achieved carbon neutrality in its office area. 
Smart Operation
In the Midea Building Technologies Industrial Park, the intelligent building platform brings the integration of software and hardware into a reality by joining the intelligent office system to workstations, HVAC, and lighting equipment.
Fit with precision sensors, air volume input can be automatically adjusted according to the CO2 concentration; AI facial recognition allows for fully frictionless access; the contactless call elevator directly reaches the passenger's designated floor; use of app enables employees to make reservations for flexible workspaces to maximize office use; automatic control of air-conditioning and lighting system according to visitor's schedule; real-time display of bathroom status; smart meeting room booking…
The intelligent building breaks down the physical distance between people, space, and equipment, reducing energy consumption while improving working efficiency. Workflow in the office becomes as simple as ordering a meal, greatly enhancing the comfort, health, and satisfaction of employees. More importantly, these measures help the enterprise reduce costs and increase efficiency.
Du Risheng commended the zero-carbon feats attained by Midea Building Technologies Industrial Park during his visit. "The carbon-neutrality of a building should cover its entire life cycle. I'm very happy to see the zero-carbon results achieved in the life cycle of a building by Midea Building Technologies," he said. "We will keep a close eye to Midea Building Technologies' application of carbon-neutral building practices, and we look forward to working closer together with Midea Building Technologies in the field of net-zero architectures in the future."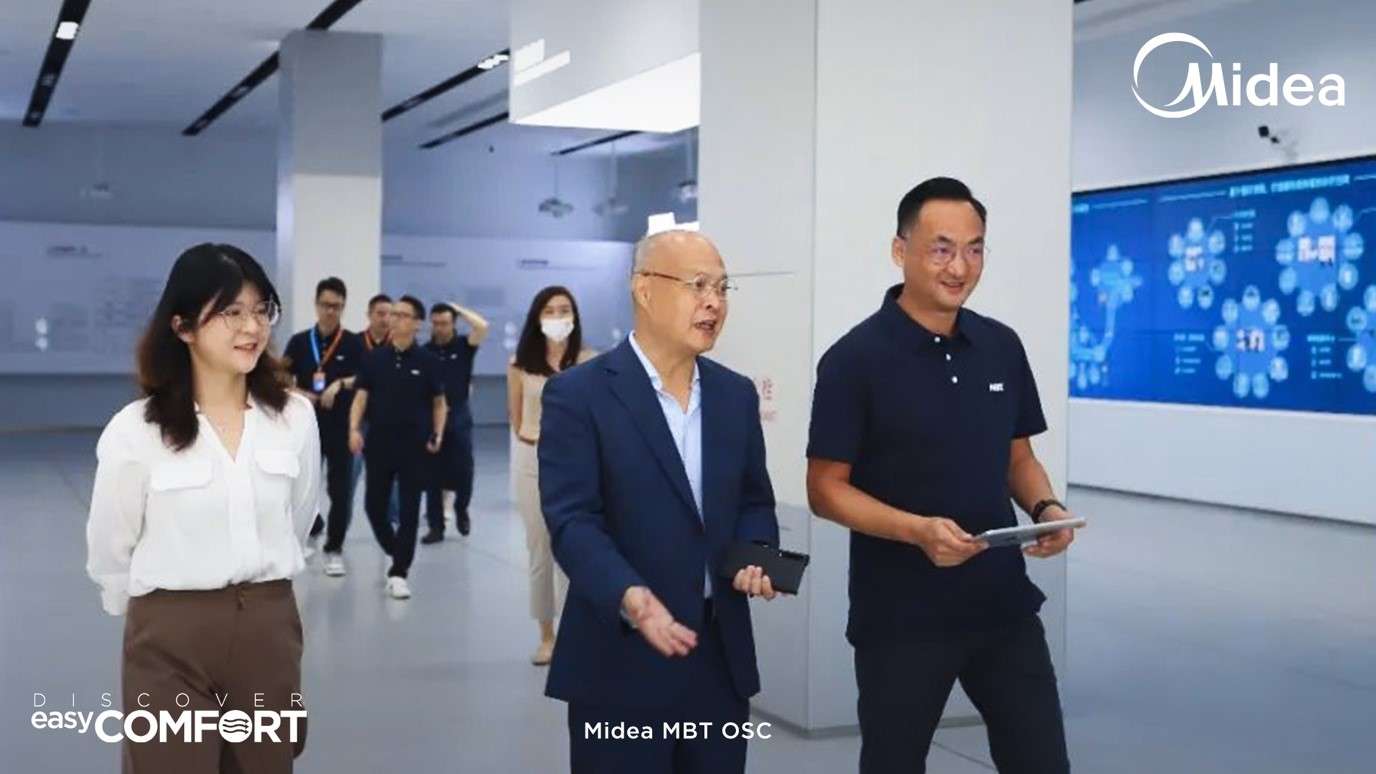 With the goal to reach peak carbon emissions before 2030 and carbon neutrality by 2060, Midea Building Technologies will continue to uphold the concept of green and sustainable buildings to further innovate in the field of low-carbon architecture. We will persistently optimize intelligent building operation platforms to help transform quality industrial properties to environmental and sustainable buildings and finally into modern and intelligent architectures.