Midea provides HVAC solutions with Air-cooled Screw Chillers and numerous AHUs to a large community market in Abu Dhabi, UAE
As a leading provider in the field of HVAC solutions across the world, Midea MBT products have been chosen and trusted over and over again by lots of overseas projects, including both of small civilian cases and deluxe high-end ones. Whatever scales of the projects, Midea would always provide the most appropriate and thoughtful solutions to our customers with the deepest consideration and heaviest sincere.
Recently MBT products were again adopted by an overseas project located in Baniyas East, Abu Dhabi. The magnificent program, called Sarab Community Market, is now being constructed and soon will be put into operation. The community market spread over an area of 9,000 square meters offering convenient access to retail options and community services to the nearby residential communities. The involved facilities include retail spaces (50+nos), parking area, entertainment facilities, F&B, multi-purpose halls, bookshop, play areas and other associated facilities.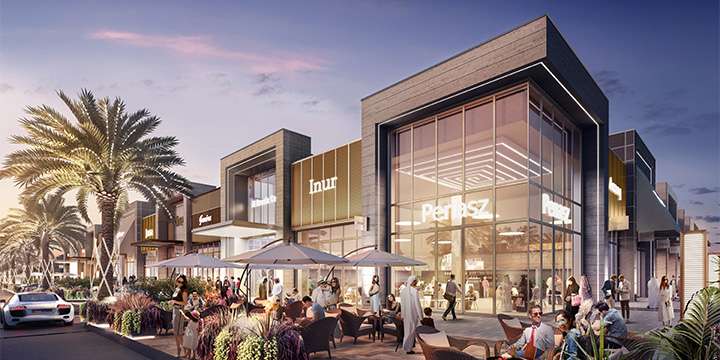 In order to comply with the great demand of indoor air freshness in Sarab Community Market, Midea provides the particular HVAC solutions with a number of Air-cooled Screw Chillers, Modular AHUs, and Standards AHUs. The 1,000 kw chiller is good at providing strong cooling, especially for those projects in hot region like UAE.
Air-cooled Screw Chiller is one of Midea popular chiller products as it is suitable for many large projects. R134a refrigerant is adopted by this chiller for the purpose of higher efficiency and less greenhouse gas (GHG) emissions. Moreover, it is assembled with high-quality core components, including Bitzer compressor, Danfoss EXV, and Shneider electric. In other words, it has relatively higher reliability, greater performance, and lower maintenance costs due to the components' stability. For the end user, Midea Air-cooled Screw Chiller operates quietly as it has larger dimension impellers for reducing speed. Besides, super-low-noise model is available, as well as user-friendly touch screen. Towards the installer, its flexible design in compact size is very convenient for those distant projects while it saves transportation, lifting, stock, and installation costs to some extent.