Nowadays, VRFs are widely used in large buildings, shopping complexes and office buildings. With major brands entering the market of VRF, the industry is ushering into a new era of development and growth. Since the launch of the first VRF product in 1999, Midea has been aiming for the industry's top position with over 20 years of work.
Midea Building Technologies has recently launched the next-generation VRF in the overseas market, after the debut in the Global Launch Event on June 1st, 2022. The new product, Midea V8 Series VRF, addresses industry pain points head-on, redefining VRF products with industry-first, pioneering technology, and bringing breakthrough technical innovation to the market.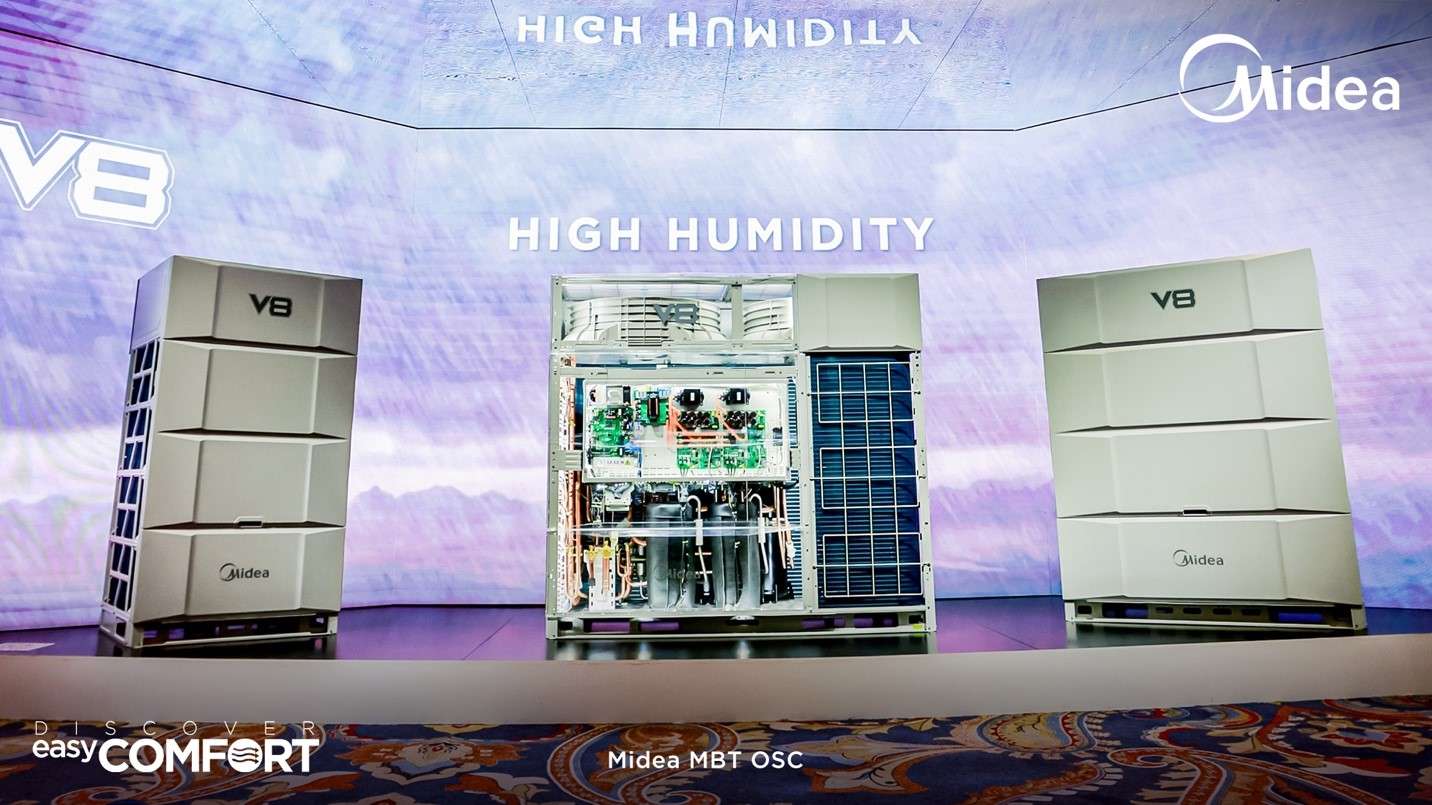 All-round Protection Against Extreme Weather
Because VRF equipment are placed outdoors after installation, air impurities can easily enter the electric control box after exposure to wind, sand, rain, snow, and high saline environments, which can lead to electric control failure and system paralysis. Midea V8 Series VRF has an innovative IP55 fully enclosed electric control box which effectively protects internal components against corrosion and prevents dust, humidity, and insects from entering the chamber. To counter possible issues that come with a full enclosure, Midea Building Technologies developed the Intelligent Thermal Management System to ensure electrical components operate at an optimal temperature range. High-precision sensors, circulating fans, PTC heater, and microchannel refrigerant cooling make up an internal environment control system that is neither afraid of extreme heat nor cold. All electronic components are cooled with ten-times greater efficiency thanks to the specially designed microchannel refrigerant, ensuring stable operation even in a full enclosure.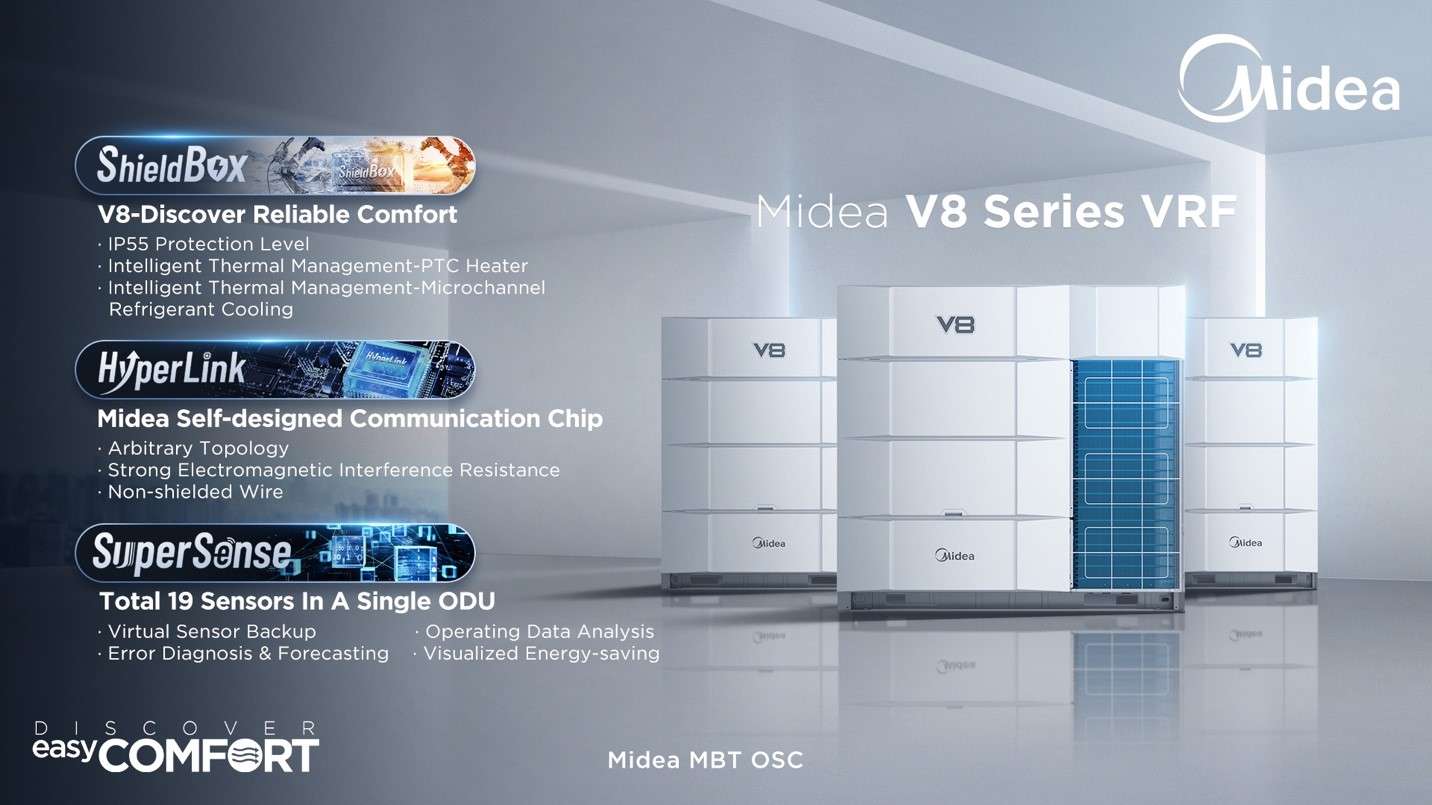 Self-designed Communication Chip for Efficient Installation
With regards to installation, Midea V8 Series VRF carries the self-designed VRF communication chip, Hyperlink, breaking the traditional limits to installation conditions. Several technologies make misconnection nearly impossible in this product. Communication wires between IDUs and ODUs support tree, star, and circle connections on top of the traditional daisy chain connection for extra flexibility. In the case of IDU failure, the faulty unit can simply be connected to the ODU with an additional communication wire. An entire system diagnosis would no longer be necessary, allowing for convenient operation and maintenance.
Midea V8 Series VRF can also supply power separately to IDUs. The system is capable of providing power supply to the built-in EXV through communication wires during a power shutdown without affecting its normal operation. It supports non-shielded two-core communication cables for installation, enhancing anti-interference performance to ensure communication quality. Midea V8 Series VRF improves installation efficiency, reduces installation costs, and enhances installation quality through powerful technology.
A Non-stop VRF, Anytime, Anywhere
When faced with sudden equipment failure, traditional VRFs have the disadvantages of difficulty with diagnosis, no timely reports of failure, and lengthy maintenance. Midea V8 Series VRF is equipped with 19 sensors, the most comprehensive range in the industry, which monitor its status data in real-time. When a physical sensor fails, other sensors can automatically simulate a virtual backup sensor, ensuring normal system operation. In addition, backups in the compressor and multiple modules guarantee the system's continuous functioning during any failure. Through data cloud gateways, the system transmits all data concerning the failure to the after-sales platform. The proactive after-sales service of Midea V8 can help minimize the system's average repair time.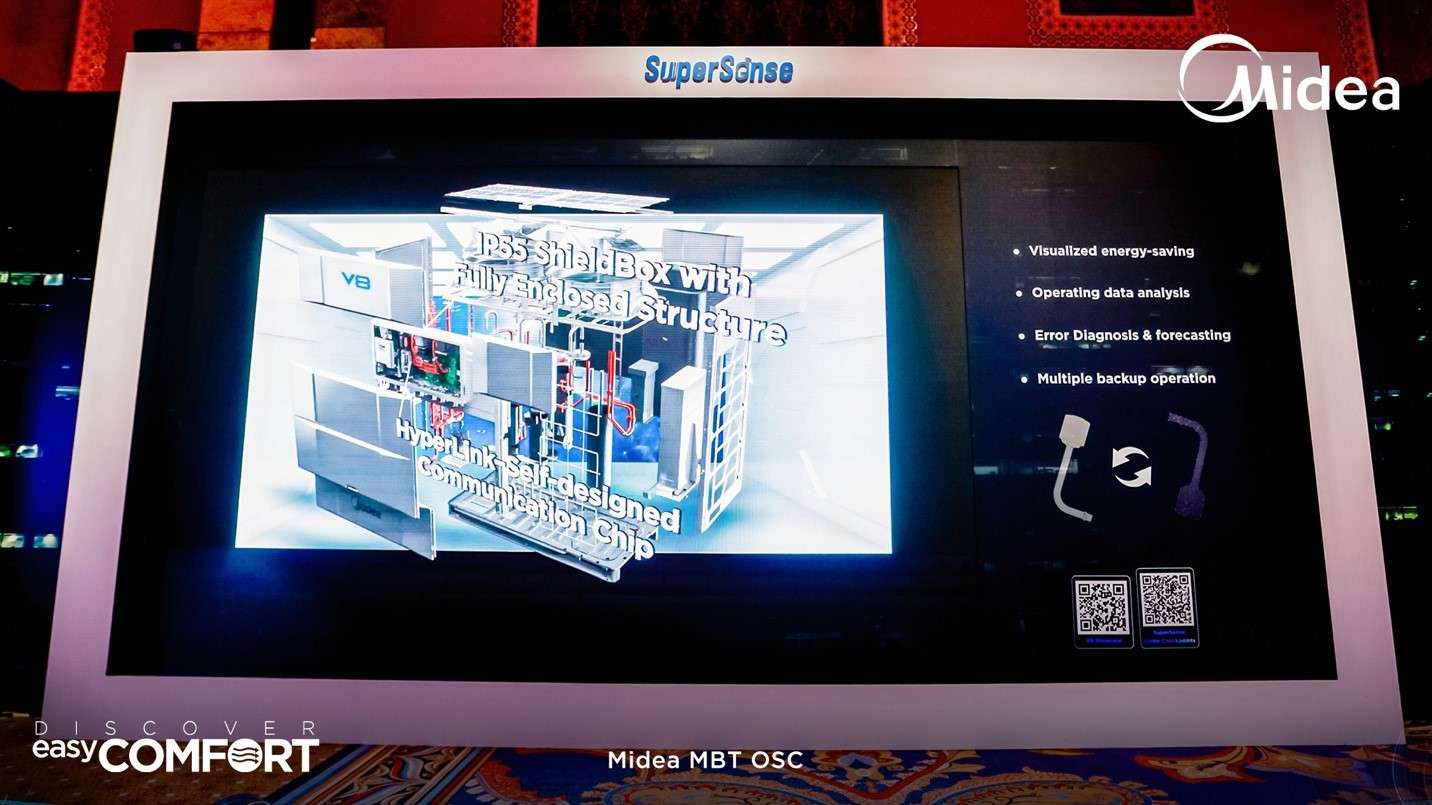 In addition to providing reliable quality, Midea V8 Series VRF displays an industry-leading spirit in the design and energy-saving features. In response to the increasing constriction of ODU space and the growing complexity of indoor space, which have brought about diverse functional demands and higher design standards, V8 Series VRF provides solutions that allow buildings to be more liberated and humane. Midea Building Technologies utilizes the 3rd generation of DC technology which is realized in all IDU and ODU components of the V8 Series VRF for energy-saving purposes. Through Model Predictive Control (MPC) of building load, all indoor and outdoor units are coordinated and controlled to achieve greater energy efficiency. A full life cycle energy-saving concept will also be proposed to create intelligent low-carbon solutions for human-oriented spaces.
Midea's V8 Series VRF Intelligent Building Energy Solution took home the gold prize at the 2022 Special Edition of International Exhibition of Inventions of Geneva. The development of V8 Series VRF began with Design Thinking, a top-level planning process that identifies pain points and technical barriers in all aspects of a VRF's life cycle – from design and production, to installation, commissioning, operation, and maintenance. Design Thinking breaks limits in the dimensions of reliability, low carbon, intelligent control, and experience, providing boundary-breaking value for users. Receiving the award in International Exhibition of Inventions of Geneva, one of the world's most important and reputable invention events, is an acknowledgement of Midea Building Technologies' independent innovation ability, and a proof that Midea's core technology and scientific achievements are recognized by global authorities.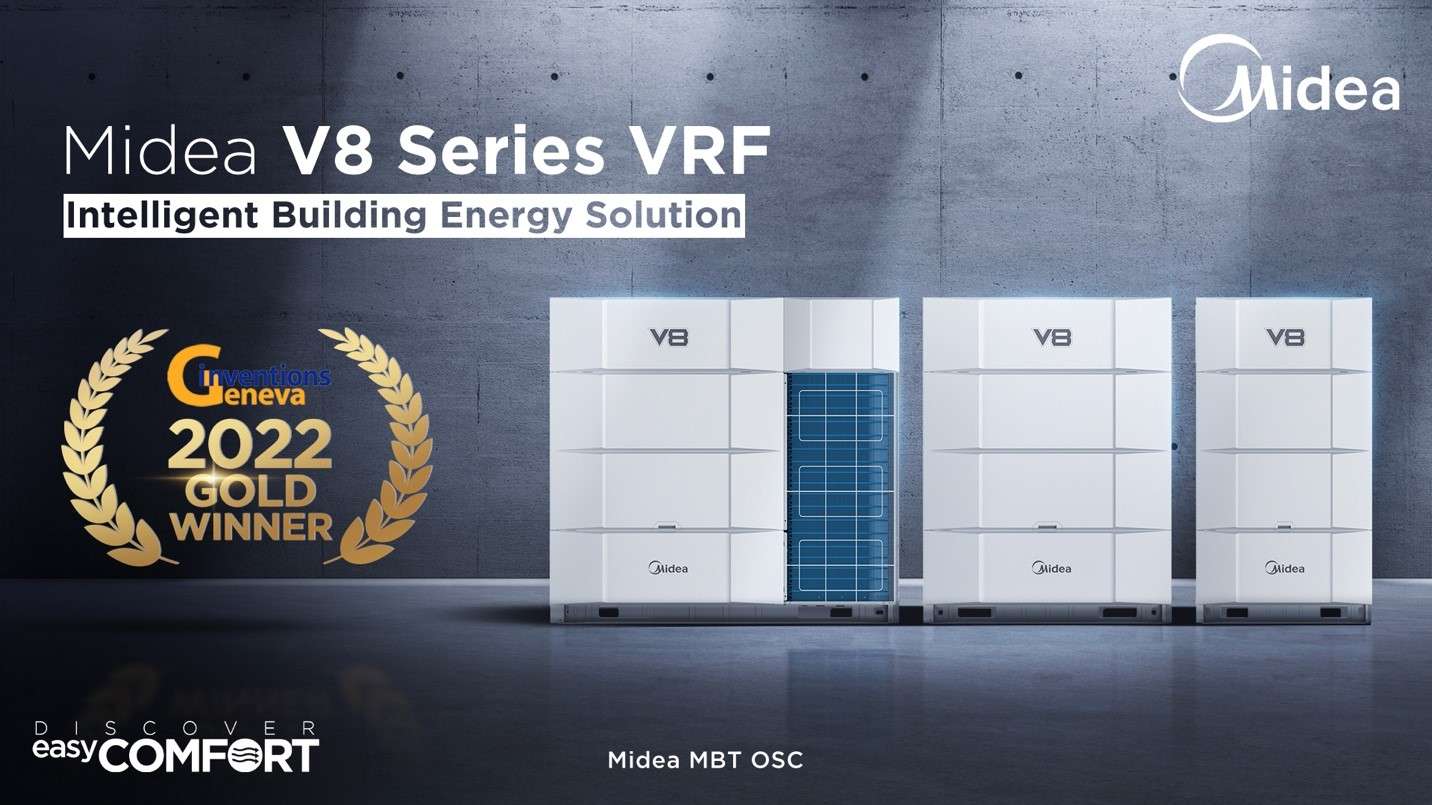 It's worth mentioning that Midea V8 Series VRF was awarded a number of Tick-Mark certificates after being professionally verified by Intertek. At the Midea V8 Global Launch Event, Intertek issued on-site three highlighted certificates for: a non-stop VRF to survive minimum 24H in 60°C outdoor, multi-topology with high reliability of communication, 40% higher than Minimum Allowable Energy Efficiency, to demonstrate the certification of the high reliability of Midea V8 products.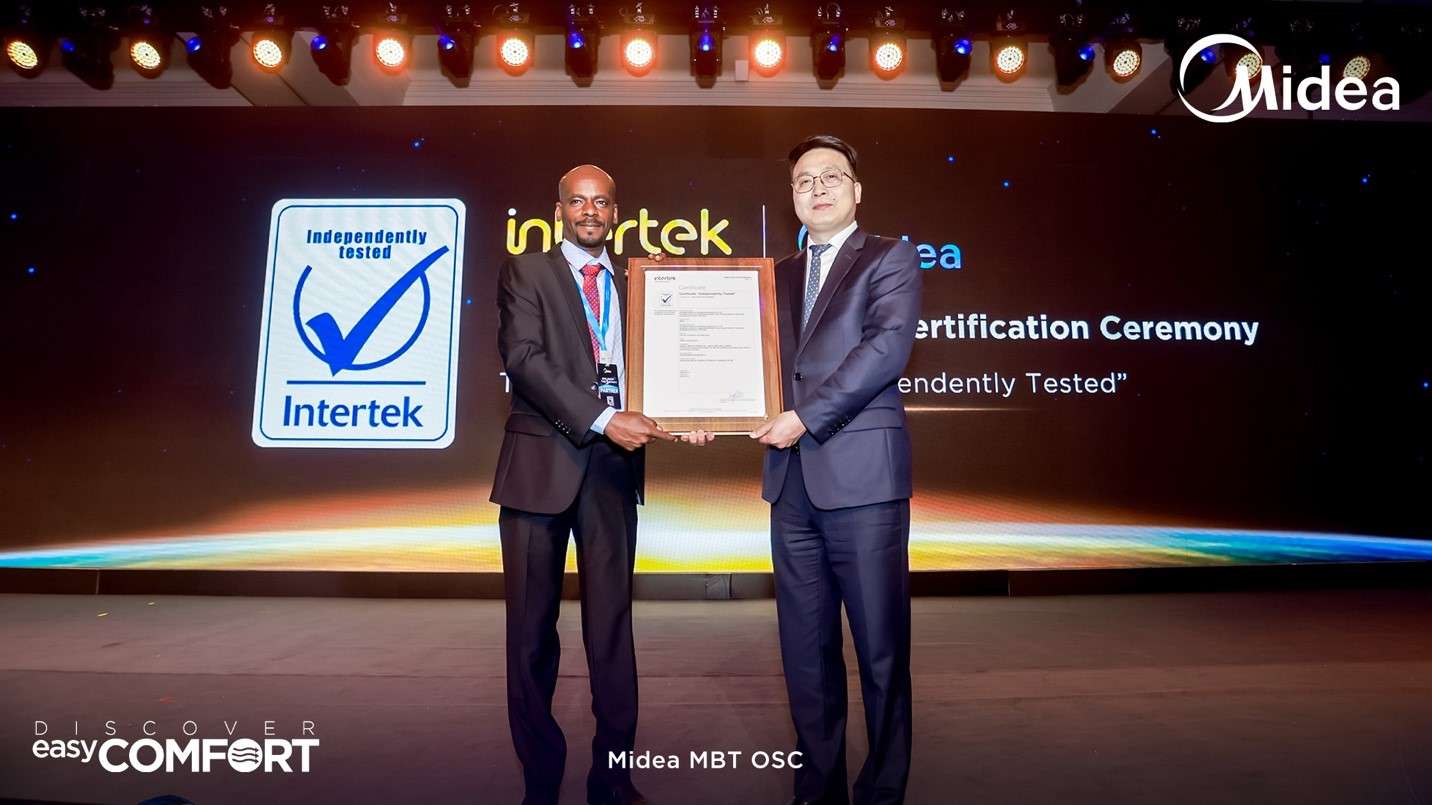 The global debut of Midea V8 Series VRF provides a gust of fresh energy to the innovative development of the VRF industry. Midea Building Technologies will persist in making technological innovations in response to different market demands and seeking improvement in quality of products. For the future, we will expand market advantages and lead industry development with expertise.