On April 29th, the launching ceremony of the first batch of Midea self-developed Magnetic Centrifugal Chiller was held in Chongqing. The new generation of Magnetic Centrifugal Chiller was officially unveiled, marking the successful landing of another independent R&D innovation by Midea and achieving industrial application.
It is reported that the new generation of Magnetic Centrifugal Chiller is the result of Midea overcoming multiple core technical problems such as bearing control and assembly, micro-channel refrigerant cooling inverter, high-efficiency permanent magnet synchronous motor and building management system and so on. Midea owns the independent intellectual property rights for this product and it will become an efficient and energy-saving solution for construction fields such as airport and rail transit in the future.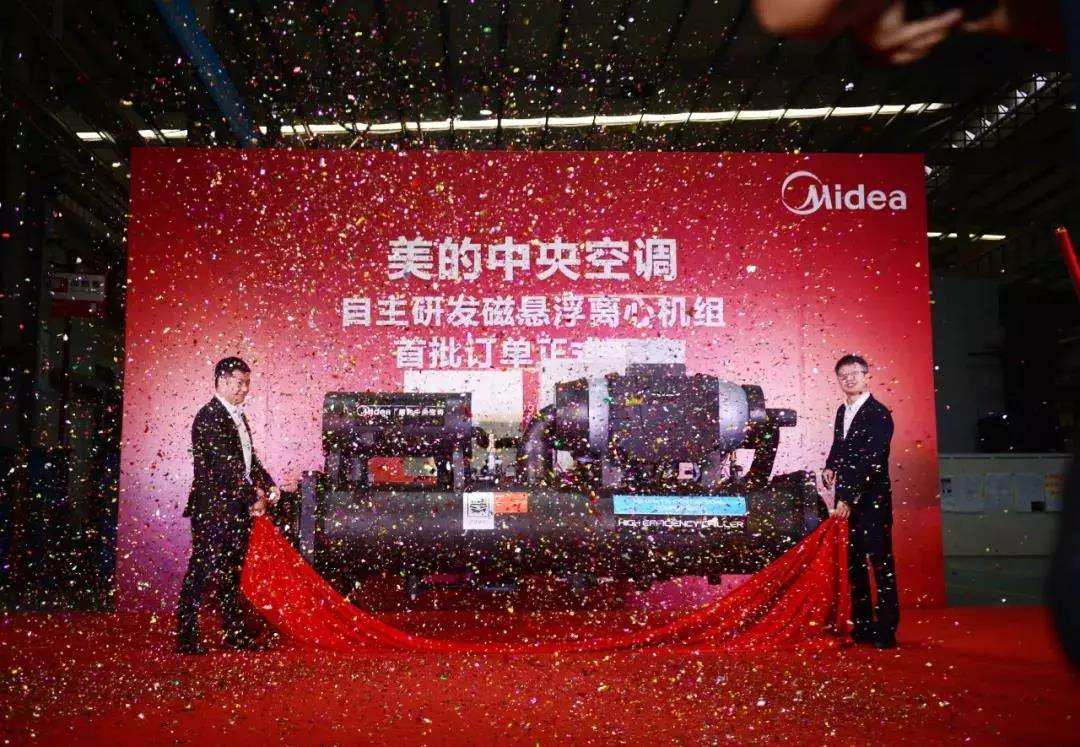 It is understood that magnetic technology is a high-tech technology integrating electromagnetics, electronic technology, automatic control technology and sensing technology and so on which are extremely difficult to develop. However, magnetic technology has many advantages such as oil-free, no friction, low noise, long product life cycle and low power consumption and so on. By applying these technology, we can greatly improve the energy efficiency, reduce operating cost, extend the service life and reduce the after-sales maintenance cost. Therefore, in recent years, different manufacturers have taken magnetic centrifugal chiller as a key research topic.
The core of magnetic centrifugal chiller is the compressor, which was dominated by a few foreign companies before. Now, MBT successfully broke the situation by developing the magnetic compressor independently. It is reported that Midea magnetic centrifugal chiller adopts double ceramic backup bearing and spontaneous electric control mode to ensure efficient operation. All of them achieve first-level energy efficiency. Besides, Midea magnetic centrifugal compressor has accurate and safe control of bearing, which ensures high efficiency and safety. Moreover, the variable frequency control technology is adopted to greatly expand the operating range, and the cooling load of the single compressor can be as low as 10%, so that the chiller can adapt to a more flexible condition.
MBT self-developed magnetic centrifugal chiller adopts micro-channel refrigerant cooling technology which overcomes the difficulties like poor cooling effect, easy condensation, poor reliability and the higher noise and so on, greatly improving the energy efficiency and reducing the noise. Besides, Midea M-BMS intelligent building management system can realize energy analysis, energy upgrading and energy management of existing or new buildings, and can comprehensively control the water system, VRF system and lighting system and so on, achieving the best operation efficiency and cost efficiency in the whole life cycle.